In Turkey, engagement is an important event that shows the serious intentions of a man. The status of a girl changed to engaged — «nişanlı», and in the eyes of the public this status almost as serious as married — «evli».
Before the wedding, the bride had one of the most interesting and spectacular rites — henna night. In ancient times, on Tuesday, the bride went to the hammam, Turkish bath, and on Wednesday evening, she was waiting for the henna night, which symbolized parting with her father's house. The future mother-in-law becomes one of the main characters of the evening. She rolls out a roll of silk fabric before the bride as a gift while she is walking towards the mother-in-law. After, the bride respectfully bows to her mother-in-law, kiss her hand, and then apply it to the forehead. This is how people usually greet elders in Turkey. The main rite of the night is painting the bride's hands and feet with henna. The woman who does it should be skilled and happily married.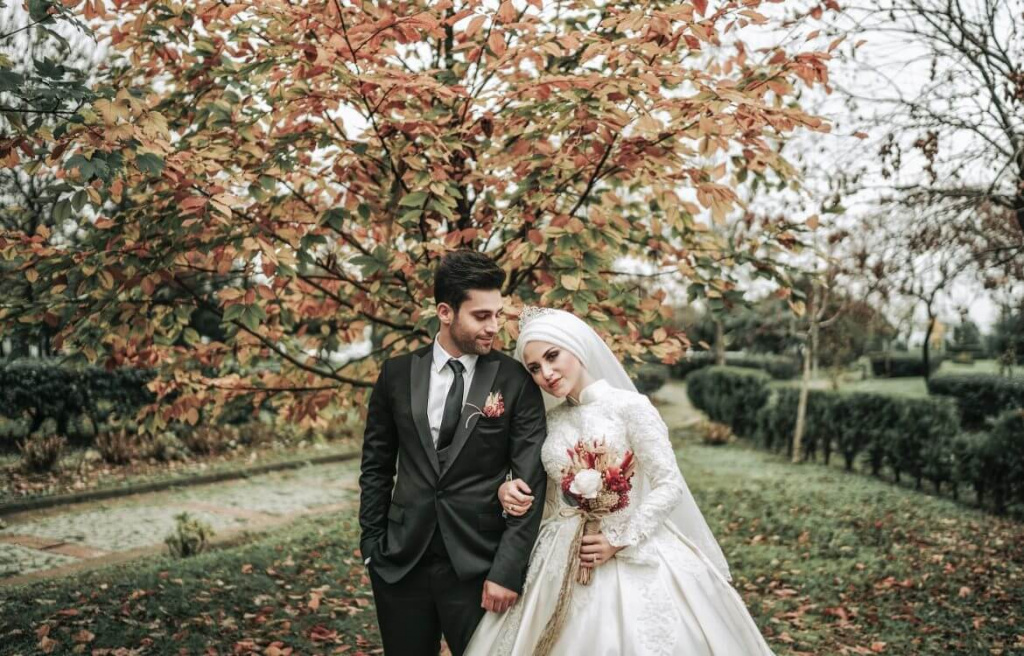 In Turkey, parents treated with high respect. Their names in invitations written after the names of the bride and groom.
At the wedding, guests usually presented with an ordered beforehand gift «nikah şekeri». Despite the name of the custom, which means "sugar", presented not only sweet gifts but also a soap, embroidery kit or other pleasant trinkets.
One of the oldest Turkish customs is to throw a tied sheep. The bride should throw it with her legs as far as possible, showing she is not afraid of difficulties, is healthy enough and ready for family life. This custom, however, is outdated and rarely observed even in villages.
In Turkey, the bride wore a red belt, symbolizing her chastity. Usually, a belt «gayret kusagi» is put on the bride by the eldest man in her family. If the bride didn't want to wear a belt, she could wear a red veil. An interesting fact that in ancient times, wedding dresses were made from expensive fabrics usually in bright colors: red, purple, blue or pink. The red color was traditional only for the daughters and sisters of sultans.
Traditionally at Turkish wedding guests present money and gold to the newlyweds. Money and gold attached to special ribbons that hung on the bride and groom. Moreover, in jewelry stores can be bought special gold gift coins to attach on the ribbons. After the wedding newlyweds can exchange them in jewelry stores. There are three types of coins: whole coin — «tam», half — «yarım» or a quarter «çeyrek». Close relatives, including the groom's mother, usually give gold jewelry.
In Turkey, water is poured from a jug on the threshold when the bride enters the groom's house. It is believed that this protection from the evil eye, symbolizing the purity of future family relationships.