Bakai Rizbanov, 25 years old, hometown — Jalal-Abad, cook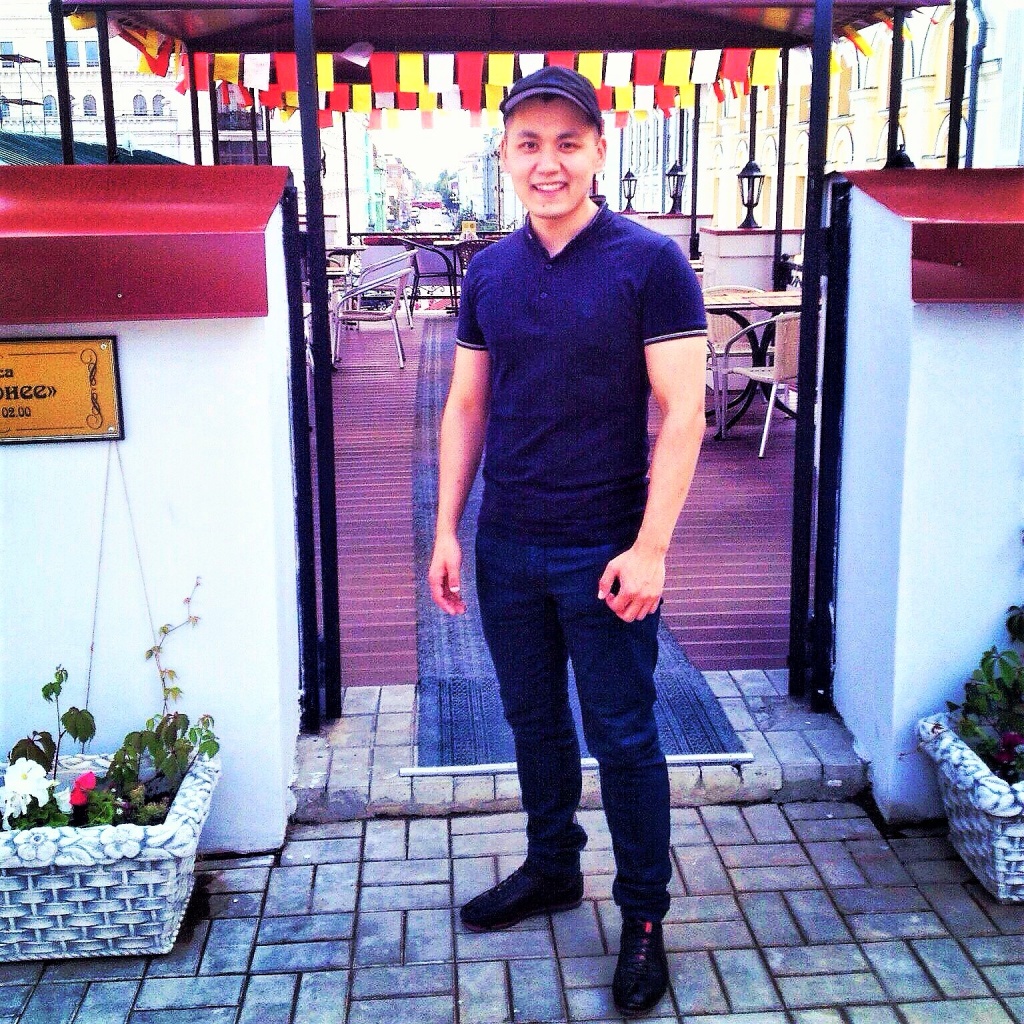 ---
About attitude to traditions
---
I grew up in a conservative Kyrgyz family, which follows most of the national traditions. Since childhood parents taught us to respect elders. This tradition is especially felt in our Kyrgyz mentality when you communicate with representatives of other nationalities.
Also, my father and mother taught us to respect girls. Kyrgyz families often closely communicate and know a lot about each other. Therefore, if you started dating someone's daughter, everyone would know about it. If relationships begin between a girl and a guy, then it must end with a marriage. Therefore, if you started dating someone's daughter, everyone would know about it.
Despite the fact that my parents are people of their generation, they are quite modern. Therefore, I respect and observe most of the traditions, but there are customs that should change a little over time.
---
About hospitality
---
I like to meet guests when I'm in my village. I am happy to serve the table, cook delicious dishes so the guests would feel nice to be at my house.
I like to meet guests when I'm in my village
The city has its own routine, work, a lot of things to do and in the evening or by the end of the week, you are so tired that the guests who came it's a different story. In this case, you may not want to, but you must meet them. At the same time, I think people should warn about their visit.
The way you greet your guests is different in the city. If a close person, a relative, a good friend, comes to my house, I prefer to tell them to make themselves like at home. I mean, go to the kitchen, take whatever you want, eat and have a rest. If the guest will behave relaxed, then it will be easier for the owner and no need to change the usual routine.
Chinara MacDonald, 51 years old, hometown — Balykchi, English language teacher
---
About attitude to traditions
---
My husband is a Canadian citizen. We got married in 1999 and all Kyrgyz and Muslim rites were observed. But we saved money for the wedding by ourselves. We had a big international wedding for 500 guests, people came from Canada, Turkey, Turkmenistan, from all over Kyrgyzstan. We decided not to observe the rest of the ceremonies and after the wedding, we went on a wedding trip next morning. Dad was outraged but mom accepted it. They knew I was an adult and financially independent.
I also rise my daughters like this as it is necessary to follow the main traditions, but at the same time to expand the horizons, to travel, to develop. Our daughters should have decent education abroad with a diploma in English, a good job and only then arrange family life.
---
About hospitality
---
All my relatives are used to notify me if they are going visiting me and to warn when and for how long they will come. I don't often meet guests, because people in my environment know I always have little time: work, students, social activities. If someone on the way to Issyk-Kul comes to visit us, I will definitely serve the table and tea, but I wouldn't spend much time on it.
When we ourselves invited somewhere, we go only to the closest people and mostly present something useful.
When we were in Canada, I was surprised how everything is regulated there
When we were in Canada, I was surprised by how everything is regulated there. We warned my mother-in-law about our visit for a week before. We also said we would be visiting them from three to five o'clock in the afternoon. They planned to be home at this time. If we had come while they were having lunch, we would have waited in the room until they had finished their lunch. The maximum in this situation is a cup of coffee or coke. They have no such thing as inviting a guest to eat with them.
When my husband and children were invited to dinner, we had four cooked hamburgers for my husband and children and two for my father-in-law and mother-in-law. There were no extra treats on the table. My daughter's half-eaten hamburger was put in the package and reminded not to forget. Therefore, in Canada, the attitude to the guests seemed to me too scrupulous and I would even say mercantile.
For me, the way to welcome guests in Kyrgyzstan seems too irrational. Therefore, I try to find a balance.
Chyngyz Akeshov, 30 years old, hometown — Bishkek, entrepreneur
---
About attitude to traditions
---
My attitude to traditions is twofold: sometimes they are good, and somewhere they affect negatively. Now traditions need to be adapted to our realities, to the new time. When my father died, my relatives provided moral and material support. In such cases, traditions have a positive effect.
But there is another situation. Recently, young people often go abroad to earn money. They work three or four years tirelessly and then return home and spend the money on the wedding. For three or four hours, they spend all the money they had worked for years. Just because it is necessary to hold a magnificent wedding, otherwise it's shameful in the eyes of relatives and friends. Then on the toy mother-in-law and daughter-in-law dancing to foreign music, the meaning of which often is opposite to our Kyrgyz family values. There are many more examples when blind following of traditions prevents us from developing.
Most people in our country spent part of salary on services payments, food and other small expenses, and the remaining money goes to visit a huge number of events, where, according to tradition, you need to give money. If people of the old school instead would have been supporting the ideas of their children with finances, then our country would develop faster.
---
About guests
---
I was born and grew up in Bishkek, so relatives from villages often come to us. From the moment of my birth to this day in our house always live someone from relatives. Some leave and others come. At the same time, when we go to visit them on Issyk-Kul, they don't really want us to be at their home, because they could accommodate tourists instead of us. It turns out one-sided hospitality.
Again, meeting guests is a costly affair. Instead of spending time and money on relatives who do not treat you mutually, it would be better to save or invest this money in something useful.I believe that nowadays the attitude to many traditions, including hospitality, should change
I believe that nowadays the attitude to many traditions, including hospitality, should change. The Jews even have a proverb: «Fish and visitors stink after three days».