---
About the trip
---
Anton. Silvana and I are together for 25 years. My wife quit her job in order to travel. I have a job but I took a vacation for a year and a half. Prior to this trip, we already went by motorcycle around Europe but those trips were much shorter. Now we spend more time, traveling a lot more kilometers. I have a rich experience of riding motorcycle, I've been riding a motorcycle for 45 years.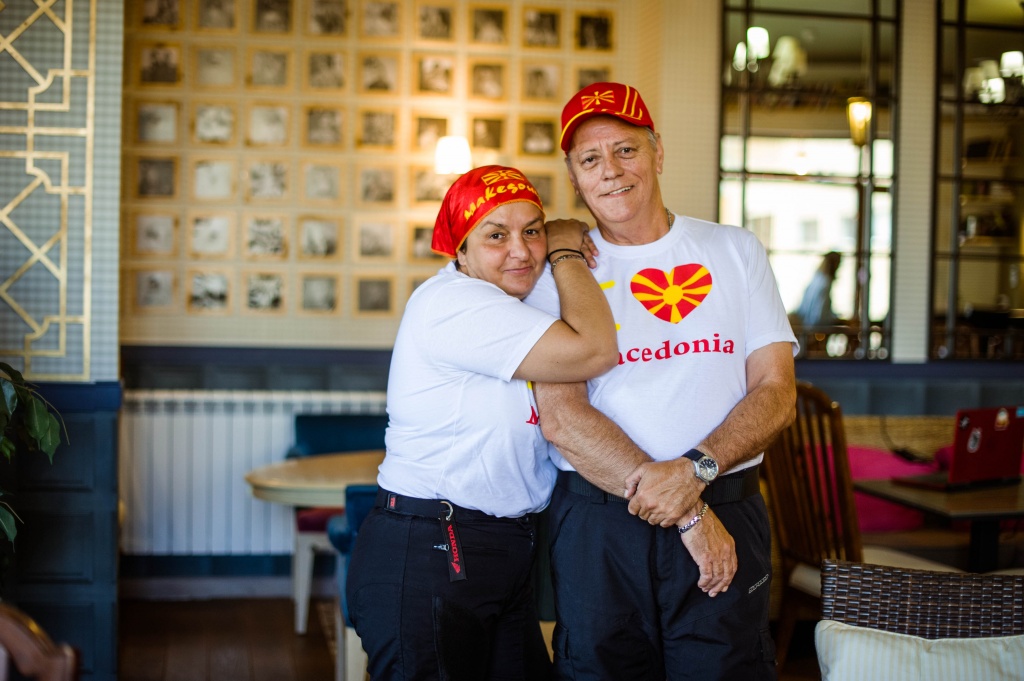 We are planning to travel a hundred thousand kilometers around the world. We started our travel from the city of Skopje, which we will return to, having made a full circle over 5 continents and 64 countries. We began our journey a little more than a month ago — on June 20. We went to Bulgaria, Turkey, Georgia, Russia and came to Kazakhstan. After that we will go to Uzbekistan, Kyrgyzstan, India, Nepal, Thailand, Malaysia, Indonesia, Australia, South America, USA, Canada, Africa and will return to Europe. Thus, we will travel around the world. Of course, there will be a part of the way that we will fly by plane — from Australia to the USA, we will ship our motorcycles by boat since the transportation costs a lot. We will meet our motorcycles in Santiago, Chile.
We need a visa to almost every country, except Indonesia and Malaysia. Some visas, for example, to the US and Russia, we received in Macedonia. We receive many visas upon arrival in a country.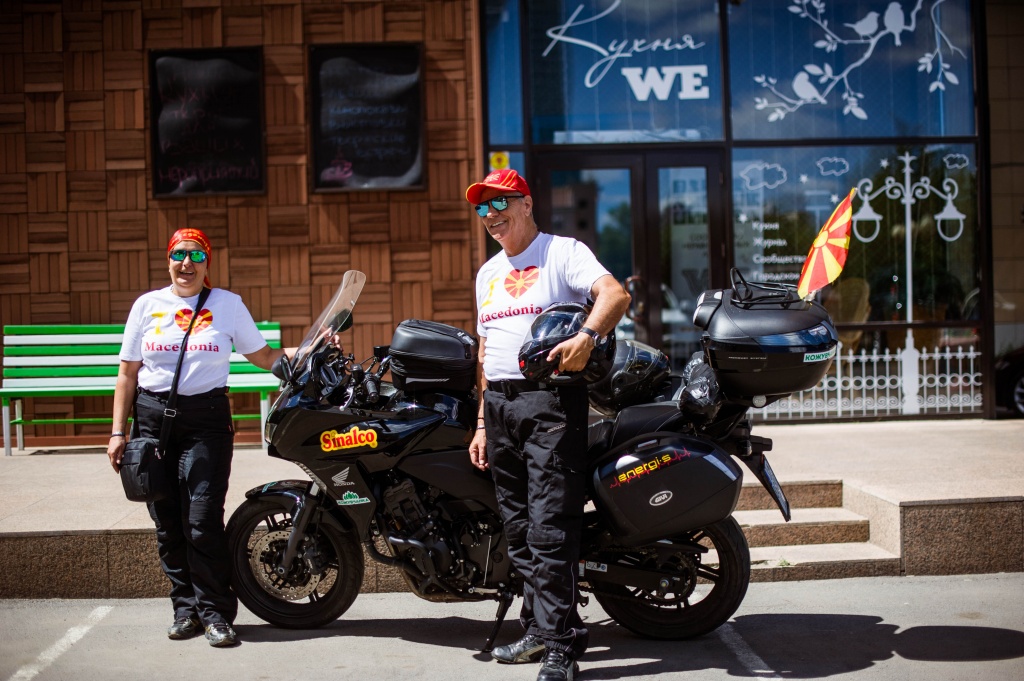 We are traveling around the world and introducing countries not only to Macedonia but also to the notion of friendship and human qualities. The motto of our journey is "Macedonia embraces the World." We travel all over the world and embracing people in every country, taking pictures with them, telling the residents of different countries about Macedonia and our culture. Our embrace is a symbol of love: by embracing people we show that we, Macedonians, are ready to share our love with them. Macedonia is a small country with a big heart. We show the world a friendly spirit and a desire to be closer to people of all nationalities in all corners of the earth. We dream of a world peace.
We record our trip to the PRO-camera, we're planning to create a documentary or a booklet. We hope that our trip will be successful, and the weather will not fail us. Our journey is unusual and difficult since we travel by motorcycle. Each country has its own climate, weather, roads that we have to adjust to. One of the biggest problems awaiting us is rain. Motorcycles are not afraid of water but the road becomes dangerous, so we try not to drive during the rain. Now it's warm, and this is a big advantage when we will go from Uzbekistan to Kyrgyzstan through the mountainous terrain.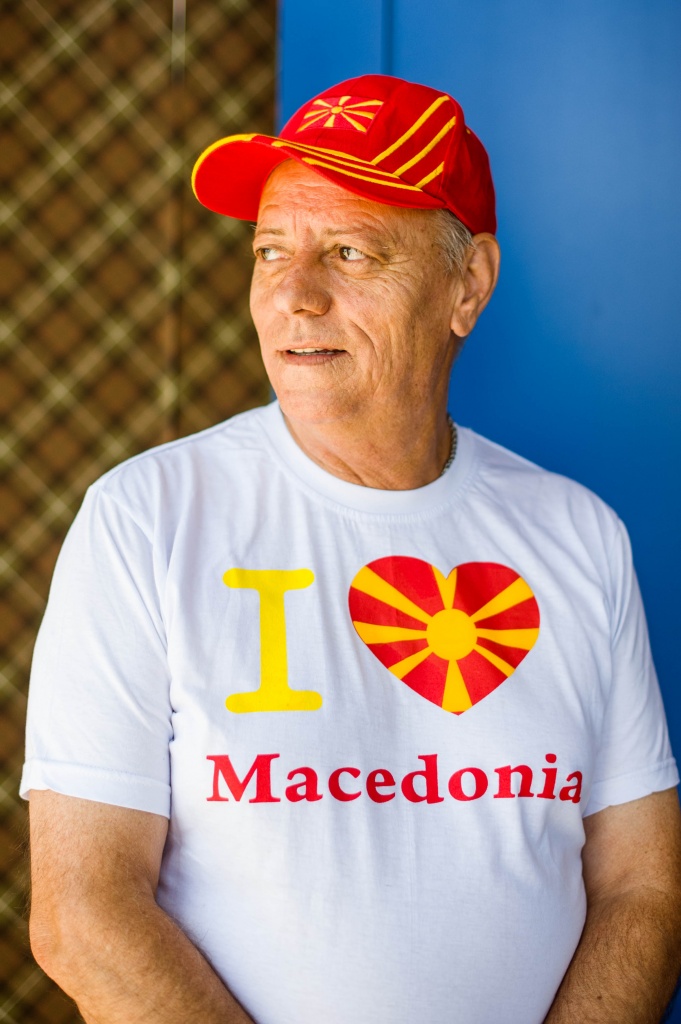 We need to refuel motorcycles every 200-250 kilometers. We do not have a place for a spare canister with gasoline. During the stops, first we refuel bikes with gasoline, we rest, drink coffee or eat. Usually we make stops when we see a beautiful countryside and take pictures.
The number of kilometers that we cover per day depends on the road's condition. In Turkey, we traveled a thousand kilometers a day because the road was perfect. On average, we travel 200-400 kilometers a day. We follow the traffic laws, but the new rules are required for the motorcycle.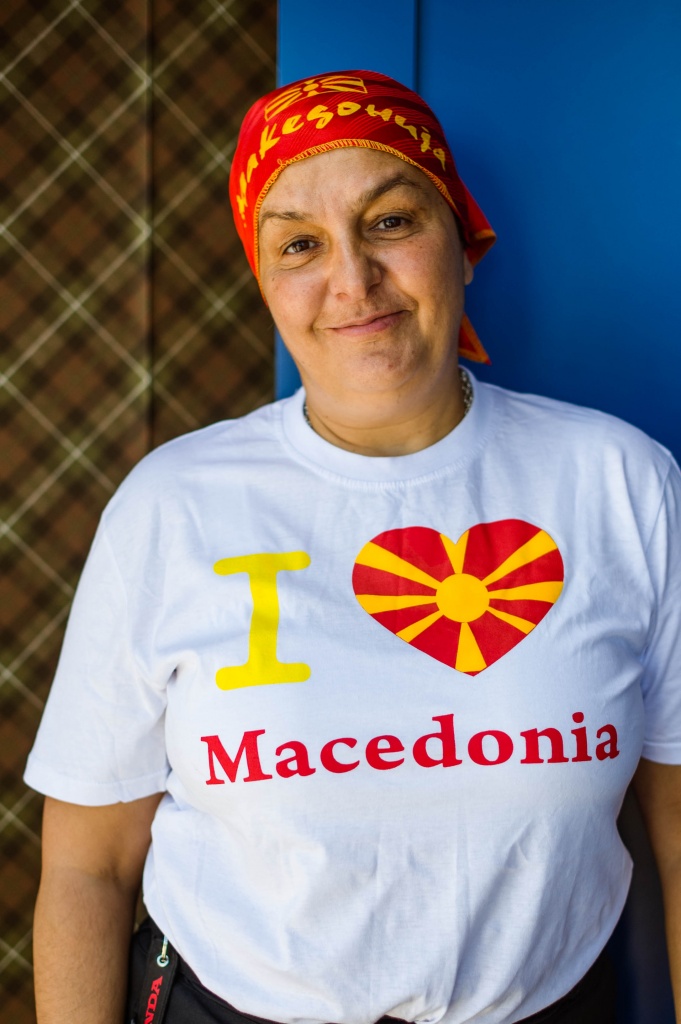 We plan a trip in advance, researching the map, and we try not to drive at night. Night is not the best time to ride a motorcycle. We have a tent and sleeping bags in case of an unforeseen stop.
We are traveling on a motorcycle brand Honda, which is designed for asphalt roads. In some parts of Georgia and Russia, there was a bad road, repair works were held somewhere. Kazakhstani roads are not perfect but in a good condition. We had no problems with the road in Kazakhstan, and the best roads were in Turkey.
The most difficult part of our journey is the preparation that lasted more than a year. Many people were skeptical about our idea, they did not believe that we could go around the world. When we have crossed three thousand kilometers coming to Central Asia, people in Macedonia started thinking about our idea more positively.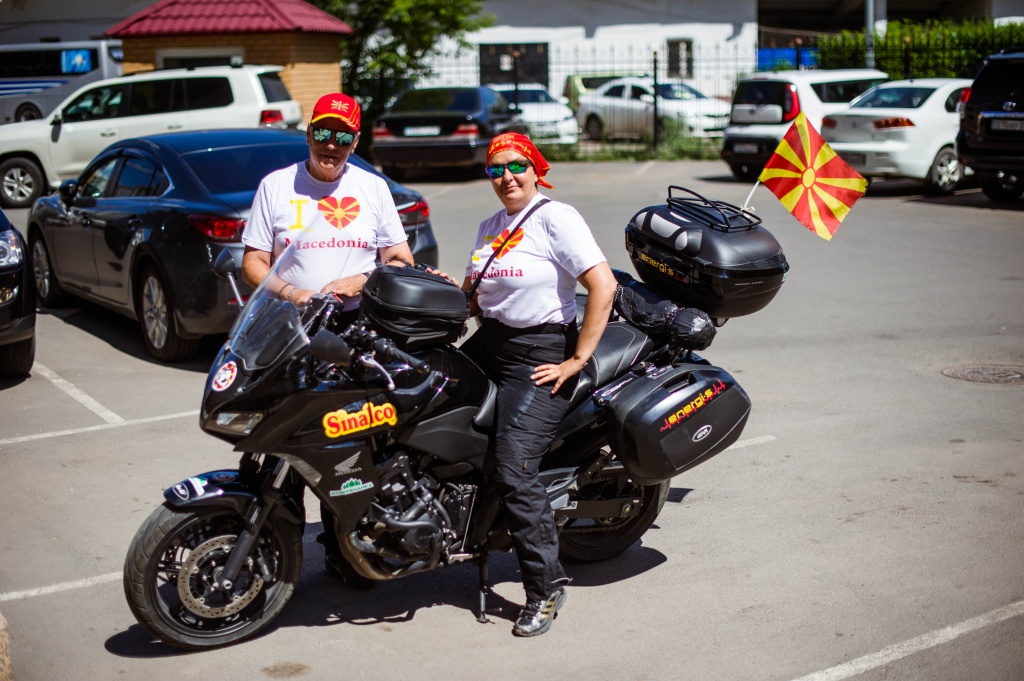 It is important to understand that a round-the-world trip is a costly adventure and we need sponsorship assistance from Macedonian companies. We change spare parts on a bike, we spend on gasoline, food, sometimes on housing. We obtained support from several sponsors but we need more.
Our state helps us, in particular, the embassies of Macedonia in different countries. Almost in each country, in the cities we stay, the Macedonians living there help us. For example, in Australia, there is a large diaspora of Macedonians.
In Astana, the Ambassador of Macedonia met us, and his family showed us the city. The Embassy of Macedonia in Kazakhstan provided us with accommodation, acquaintances with ambassadors of different countries. For example, in Kazakhstan, we met the ambassadors of India, Uzbekistan, Kyrgyzstan, Indonesia and Thailand, who told us important information about traveling on a motorcycle in these countries. The Embassy of Macedonia in Kazakhstan promised to help us further during our trip as they have good connections abroad.
There is no Macedonian Embassy in Uzbekistan and Kyrgyzstan. The embassies in India and Australia are already waiting for our arrival. We visited the embassies of Macedonia in Bulgaria and Turkey. In Russia, we were in Astrakhan and could not visit the Embassy of Macedonia, which is located in Moscow. After Astrakhan, we had to go straight to Kazakhstan.
---
About Kazakhstan
---
From Macedonia to Kazakhstan we drove a few thousand kilometers on bikes. We started our trip around Kazakhstan from the city of Kostanay. After that we went to Atbasar, then to Astana. Further in Almaty, Taraz, Shymkent, Turkestan, we will return to Shymkent and from there we will go to Uzbekistan and Kyrgyzstan. The main problem is the steppe wind, which prevents the balance of motorcyclists.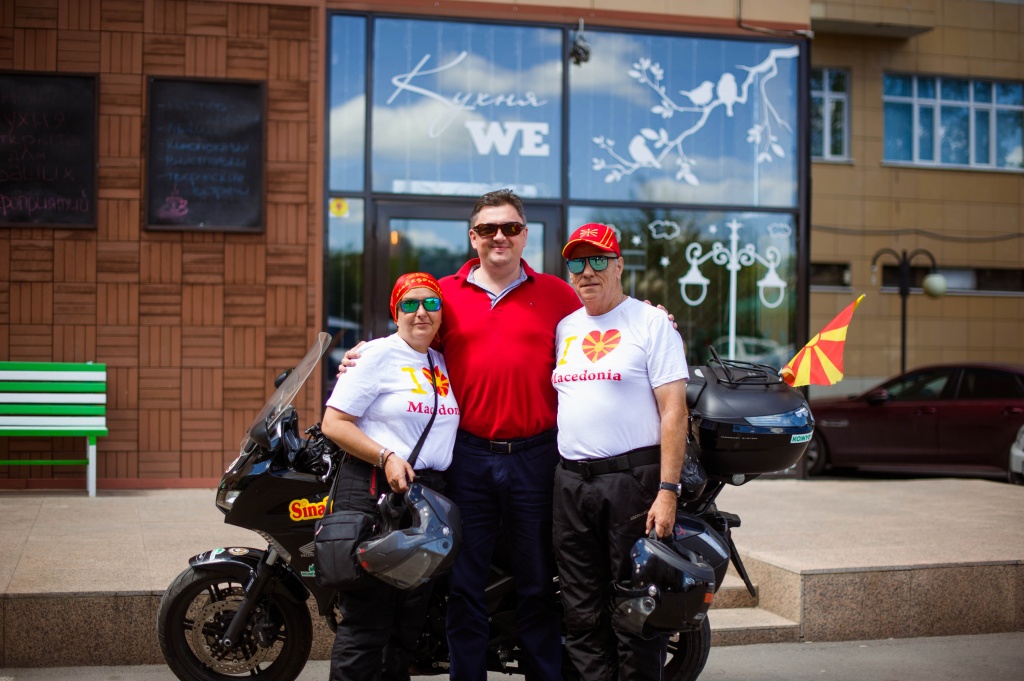 This is our first and, I hope, not the last visit to Astana. We are amazed by the city at night, lighting bridges and illumination. We visited the Independence Square, the Palace of Independence, the National Museum, Baiterek, Pyramid, EXPO, the embankment and the new bridge. We fell in love with your beautiful city.