---
On the starting point
---
Basically, I completed my bachelor degree in hotel management in 2000. There we studied hotel and restaurant management. I was working in Indian 5-star hotel as a management trainee for 3 years. I didn't have a dream to travel all around the world, but later I met my friend who used to work at oil and gas industries in Atyrau. He traveled to India for a vacation, we met in an Indian mall. He told me to go to Kazakhstan to see the opportunities. I was supposed to go to Malaysia, so I said: "Ok, let's go to Kazakhstan". Because it was new and there're many opportunities. So I took a risk and said OK. My friend helped me with visa and booked my ticket.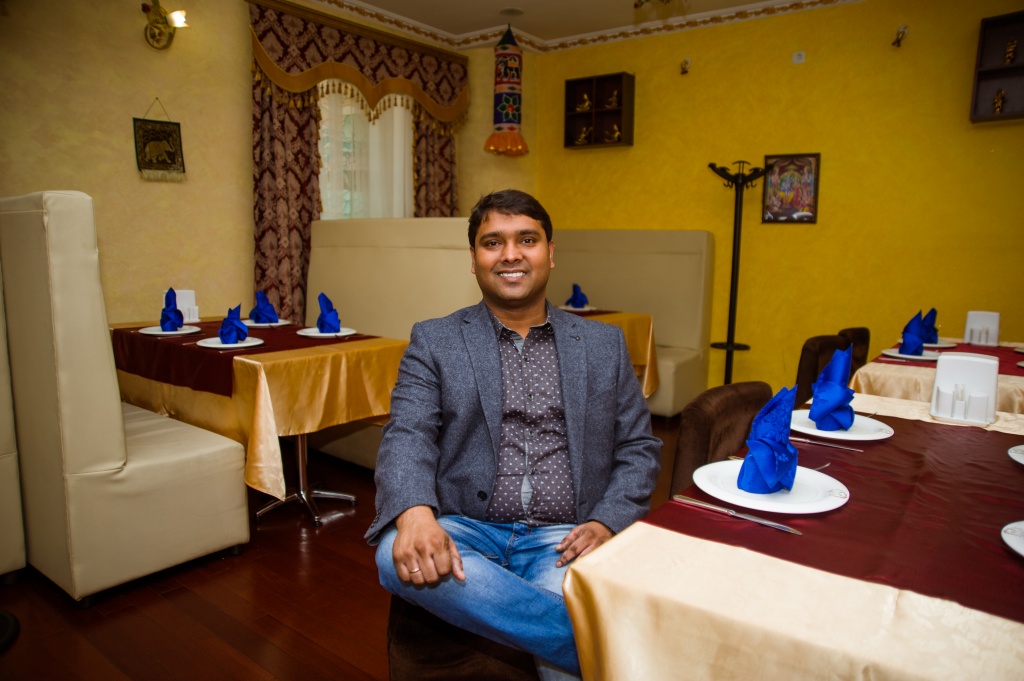 My friend gave a picture about snow. I was expecting to see a little Switzerland. But the thing is that I landed in Kazakhstan in July, 2003. It was shocking for me: "Where is the snow?" he said that it'll be later in October. I said: "You cheated me!" Then I learned that it'll be snowy in winter and people will play football on the river.
I didn't know the language initially and didn't work. For first 2-3 months I stayed at my friend's. I had to llok after my food. I didn't bring any spices from India. I was eating bread, I'd never tried mayonnaise sauce in India. If I ate it I always warmed it in the hotdog. In Kazakhstan it turned into a tasty food for me. I bought homemade bread. In India I'd never had Chinese noodles, coming here I was eating it all the time. In a month I lost almost 10 kilos. When I went to shops I didn't know how to say egg and just said: ko-ko-ko.
Later when my friend called me from Atyrau he asked me how I was doing. A month later I found a job in the fast shopping mall Promenade in the Abay street. Its owner was a man who spoke English, I approached him and said that I knew cooking, I graduated from hotel management, etc. he gave one of the outlets dedicated to Mexican-American cuisine. He gave me some space to sell Indian food. He said that whatever I'd sell I'd get 20 percents. I started making, selling food. That was how people knew that Promenade has Indian cuisine. There're 2 thousand Indian students in Almaty, prices were very low as it was a food court in the mall. For a month I made 750 dollars. The owner was very happy.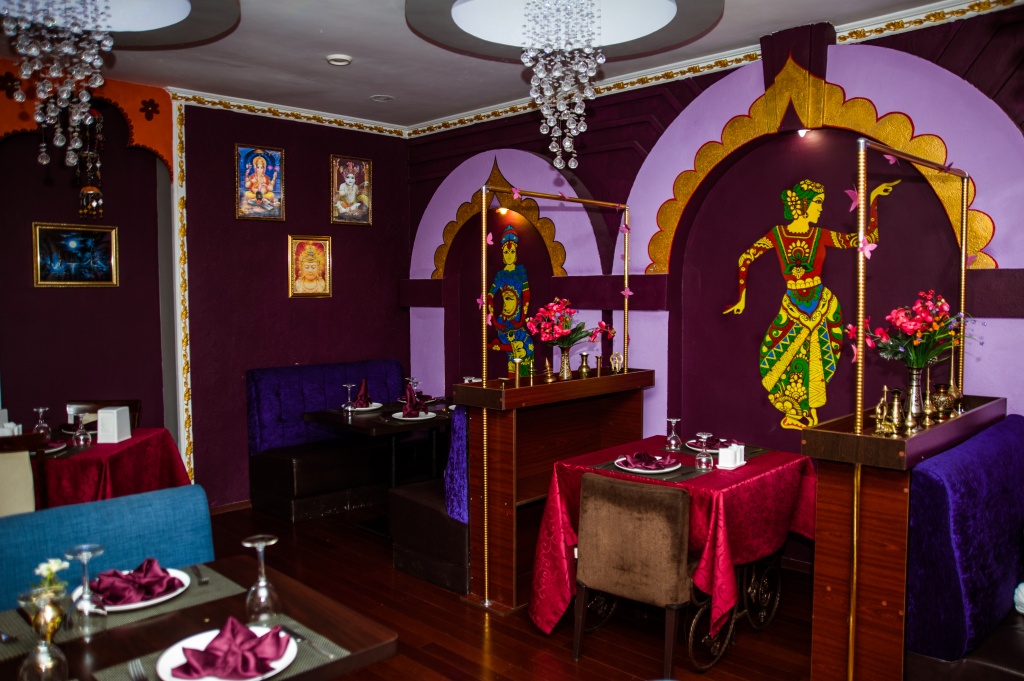 Later an owner of the restaurant "Namaste" came to the mall and started searching for me. He said that he'll give me a job with 650 salary, accommodation and a ticket to India every year and will make me a visa. this was a better offering for me as previous Kazakh boss gave me 20% only.
I married a local Kazakh girl on March, 27 in 2017 whom I met in Astana. We have a new-born baby one month-old. I think I'll stay here, but will continue travelling to India in future. Once I make my business stable maybe we'll keep travelling in Kazakhstan. My wife belongs to Kazakhstan so I'll continue my life here. It was my destiny to come back to Kazakhstan as coming back I found her, we fell in love, we've been together for 7 years and then last year we married. We did a registration and then we had small a banquet for our friends. We invited out relatives to house, накрыли стол как положено. After the marriage we got a contract at the Expo and I was busy and couldn't go back to India to do a ceremony there, later she became pregnant and we decided not to go anywhere.
---
On peculiarity
---
I came to Kazakhstan in 2003. I've been in Astana since 2010 when we opened this restaurant in December, 2010.
It is ok but Kazakh people are still accustomed to traditional cuisine olike pilaf, beshbarmak. Now we get more response from the Kazakh people. Our clients' 70 % consist of the locals, the rest are foreigners, tourists, embassy workers. We cook according to our clients' taste, so the one who visits us ones becomes our regular client. We don't give local too spicy food, we make the food according to the local taste. I give my clients a personal attention. That's why we've been working for 8 years.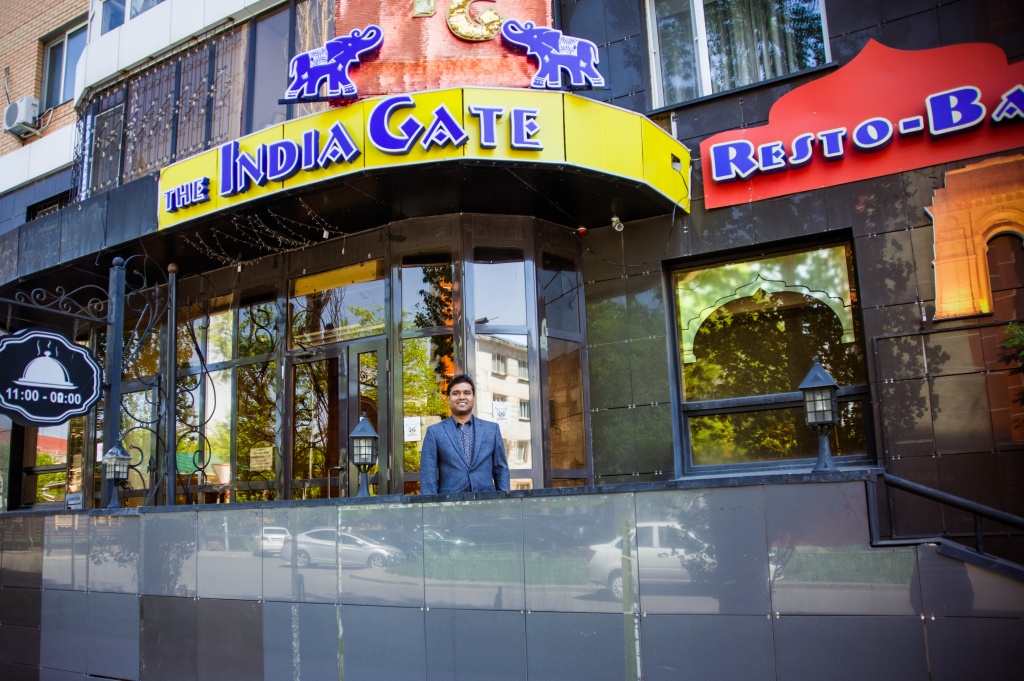 Since 2010 there have been 7 restaurants that opened and closed in Astana. The market in Astana is not for too many Indian restaurants because the population is too low. Most people are working here and don't spend money. In Almaty we have 7 restaurants, it's a big city. Almaty people spend a lot. Every company does parties.
---
On food
---
The whole menu is Indian, but we have 2-3 dishes from Chinese cuisine. It is modified Indian-Chinese food as Indians like Chinese fries rice, Chili Chicken. I bought the whole interior from India. I found a Kazakh student who managed to paint all 3 pictures hanging on the wall in 3 days.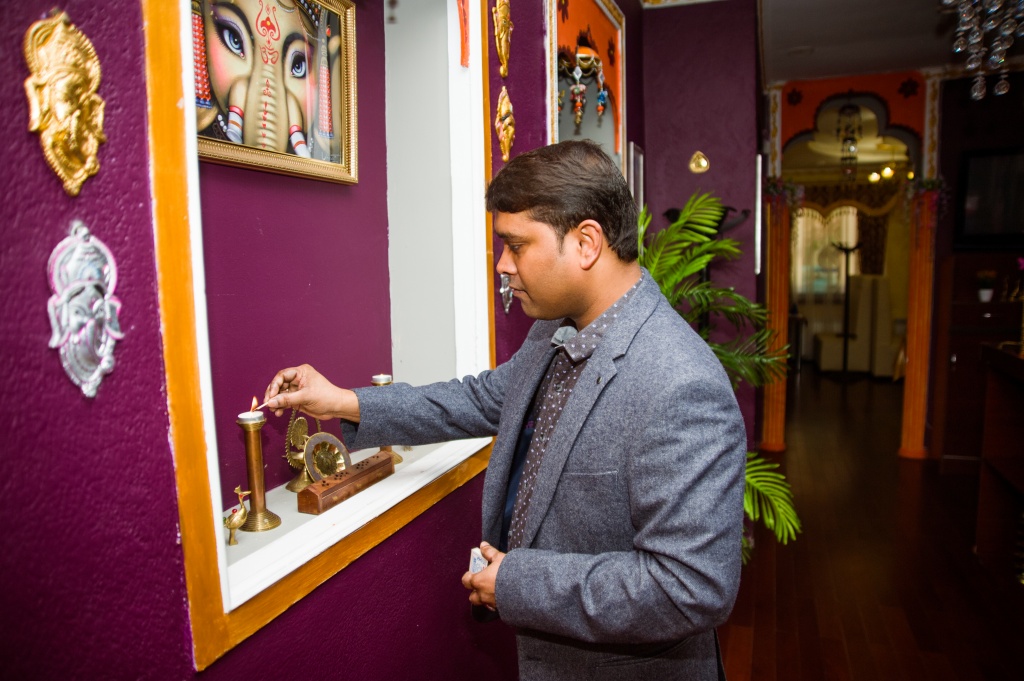 We bring all the spices in India. In India we cannot kill cows and horses, it's an offence. They'll arrest you for 2 years if you kill an animal in India. I was afraid to hear that you eat horse, but people were telling me that horse meat is really good and then is started eating horse meat. It has a good taste.
We didn't have beef in the menu before, but then we added one item because of the demand. Cooks don't taste the beef, they cook the sauce first and then a local chef assistant adds the boiled beef there.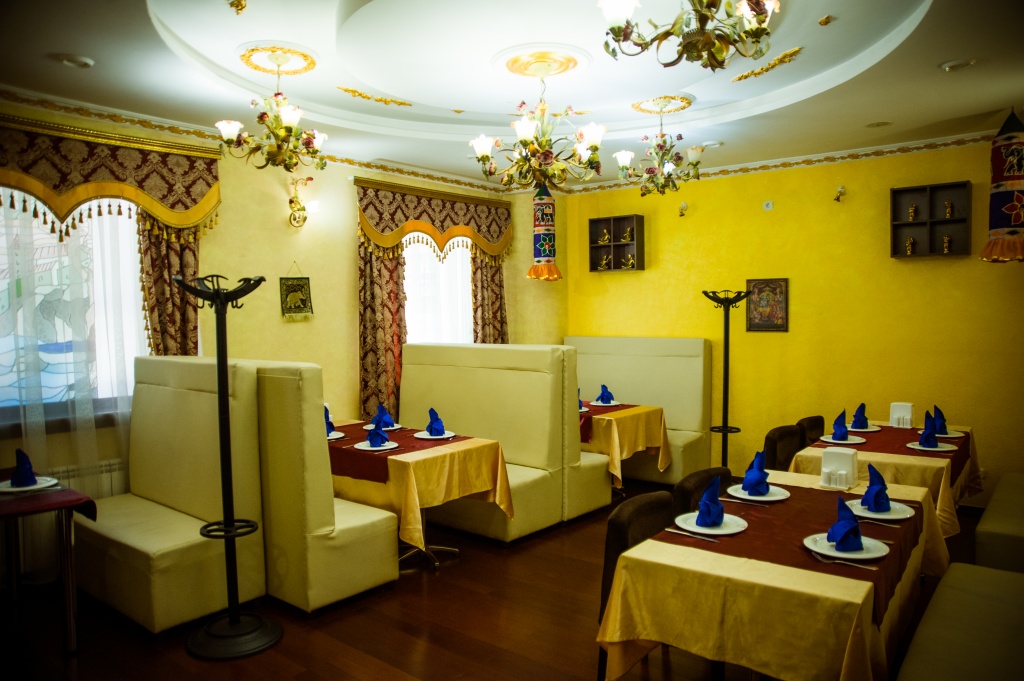 ---
On localization
---
Everybody wanted the restaurant to be in a center. But we're not the local cuisine, it's a specific kitchen. There're certain people looking for an Indian food. The rent in the center is too high, we cannot afford renting the place for 3 million in the center every month. Here the rent is nominal, we pay 800 thousand tenge. This cuisine is for particular people, those who like my food will find me on the internet, will call me. If this place was in the center, I'd get more customers, but this income would go for a rent. 3 friends of mine opened restaurants in Nursaya, in the center. But because of the rent they closed. This is the only Indian restaurant in Astana.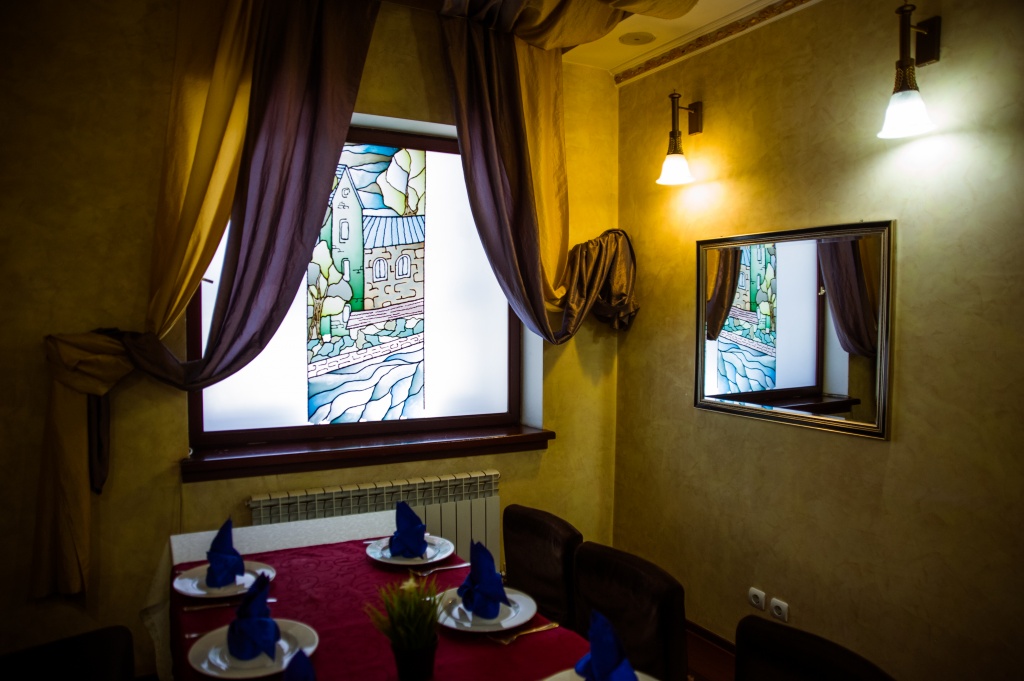 We've changed 3 locations during these 3 years. We have been to Saryarka-Abaya, Astana Mall. We're planning to expand the business. Now the business is slow, we're planning to launch a businesss on the left bank. We'd like to have something like fast food kiosk in the city. It's going to be an Indian doner. We're negotiating with akimat to find the right location near Expo, Abu Dhabi Plaza. If we get the permission we'll start the business there.
Astana is like an administrative city, people don't go out. Peries they arrange are wedding parties mostly. Sometimes they do birthday parties. There it's easier to open a restaurant.
---
On guests
---
There're about 25-30 people visiting us on the weekends. It's not stable, as yesterday we had around 18-20 people, but the day before yesterday we had 40 people. It's quite flexible. During the holidays we have more people.
There're many Indian students living here, but we all know the financial situation of students all around the world. They don't have much finance, so they come here once in a month once in a blue moon. We give them a good discount about 20-25 percent as we understand them. I was a student few years ago. So we treat them well.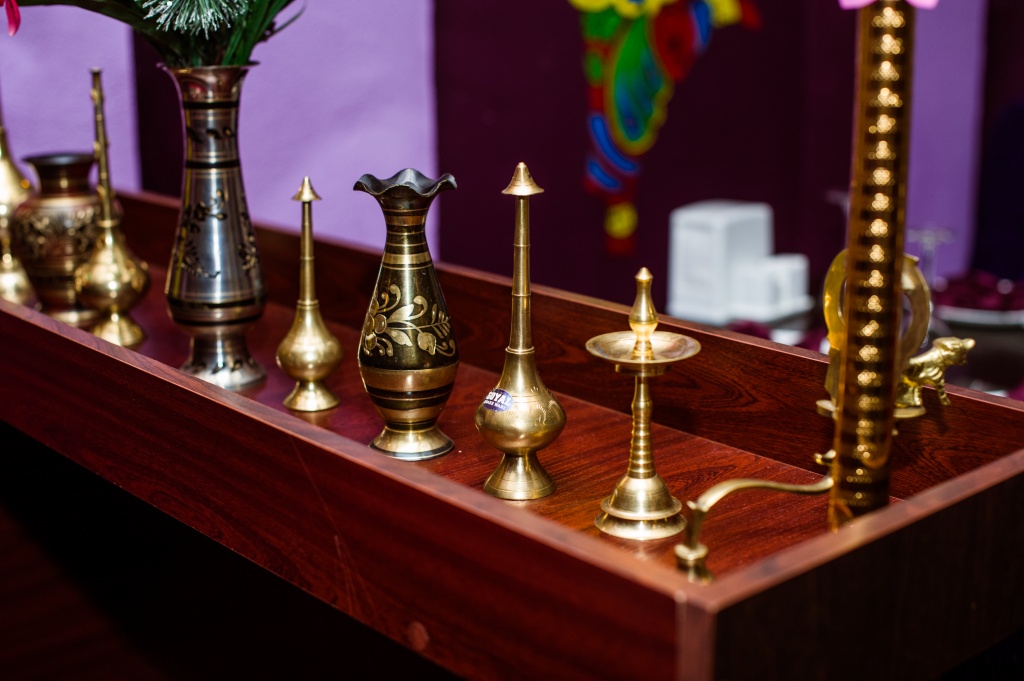 We don't have many Indians here. Here we have about 70 people living here, they work in the Embassy mostly. We know each other by face. All of them are living with families, so they cook at home. But they come here once in a week or two weeks, they order food by phone as we have a delivery. The embassy and Indian cultural center organize some events every 2 months. We do catering for these events. We have 10-12 professors working in a Nazarbayev University who basically order food as it's too far to come here.
We have many permanent customers who aren't Indian. They come with families, colleagues. They do small meetings, talk outs. We have some seminars here as well.
---
On plans
---
By the meantime we're looking for the design.. instead of opening big restaurant we'll have a small kiosk on the left bank. Later we're going to focus on financial issues. Abu Dhabi plaza has already signed the contract on opening the fast food inside the shopping mall on the food court. The design has already been approved. They supposed to give us the place before the Expo, then after, in March of this year. Now they're saying not before 2019 May, June. We're still waiting. The menu of that restaurant will be fixed, there will be snacks. For full meal people will come here, to just taste they can go to the food court, grab and go at the kiosk.