Natalia Petrova, 31 years old, hometown — Gorno-Altaysk, civil servant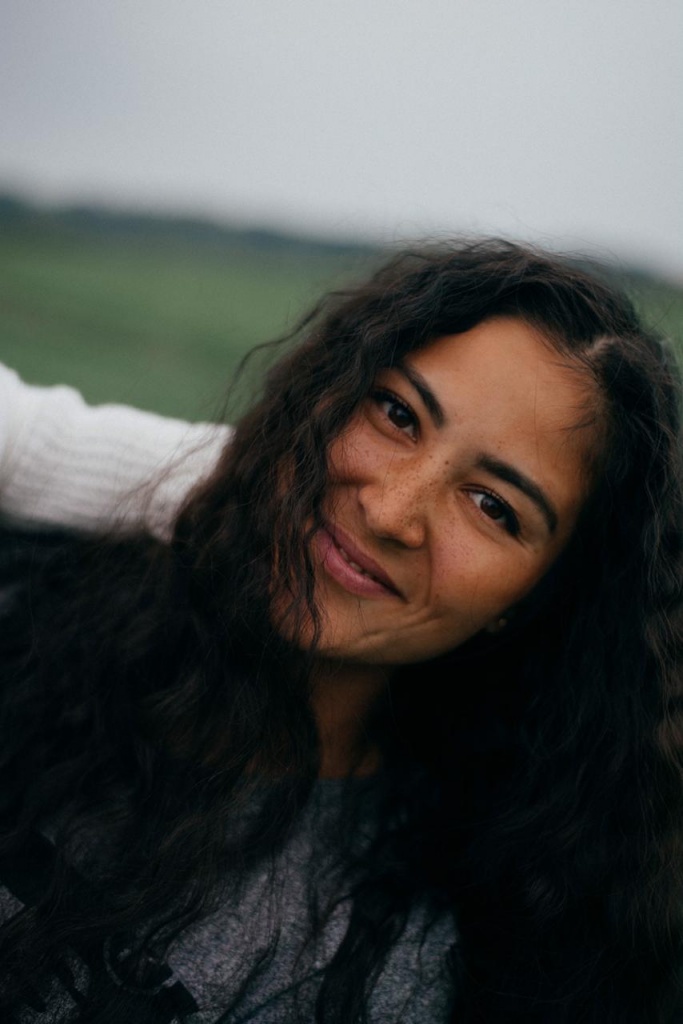 ---
About Altai
---
I live all my life in the Altai Republic. I associate Altai primarily with nature: mountains and rivers. There are 11 districts in the Republic, and each of them has its own unique nature.
The Altai Republic is considered to be one of the most beautiful regions of Russia with ecologically clean nature and centuries-old history.
We have a well-developed equestrian, hiking and rafting tourism.
---
About people and traditions
---
We have more Russians than Altaians here. In Kosh-Agach district lives Kazakhs, this area is 500 kilometres from the capital — Gorno-Altaysk.
Altai has many craftsmen who work with clay, write beautiful paintings.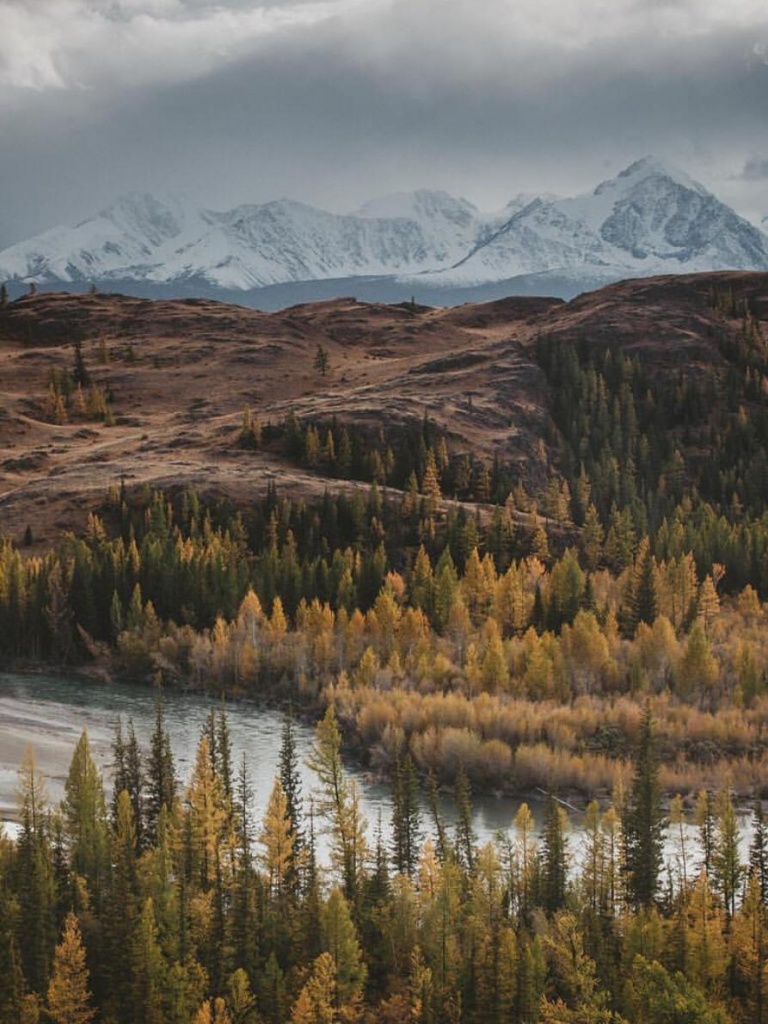 Altaians also have their own traditions. For example, on the way to the pass, they always tie ribbons on the trees — kayra.
Altaians have beautiful wedding traditions. Altai wedding is divided into several parts and begins with courtship. Relatives of the groom before the wedding go to the relatives of the bride with gifts. The wedding is fully paid by the groom's side. At the toi, the girls and the bride weave the braids, sung Altai songs. The second half of the wedding toi is belgekchek.
Altaians have beautiful wedding traditions
National products: cheese — fermented milk product, durgom — a dish of intestines and drink koumiss.
---
About prices
---
The average salary in the region is 15,000 rubles.
Due to the fact that we have few jobs, no large factories or businesses, it has become popular to engage in tourism. There are many campsites for every taste and colour. Those that cost 3000 per night or 500 rubles.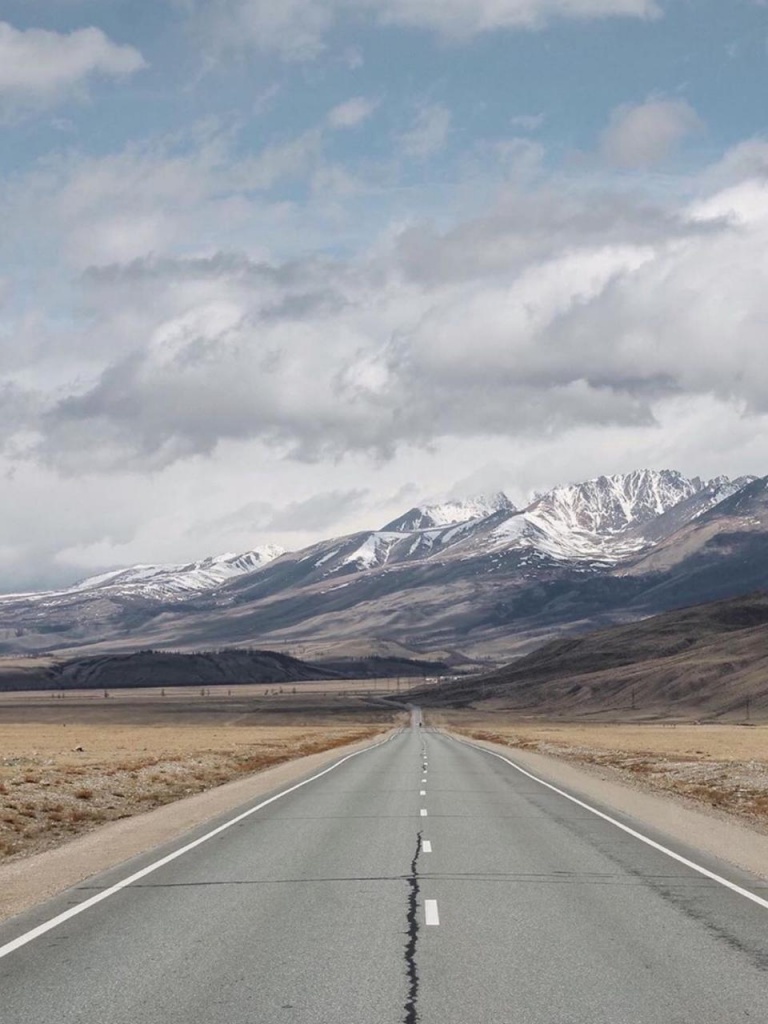 Transport is inexpensive, the city — 18 rubles, suburb — 20 rubles. The city is small, so it is convenient to move quickly and easily. One end to the other can be reached in 20 minutes.
We have a few good shops and shopping centres with a large selection, so everyone usually goes to Biysk, 100 kilometres from us.
Renting a one-room apartment can cost 10,000 rubles. Many new houses building, most of the houses in the city are five-storey.
Many officials and rich people are trying to buy land and cottages here.
Alexander Fuchs, 29 years old, hometown — Barnaul, traveller, entrepreneur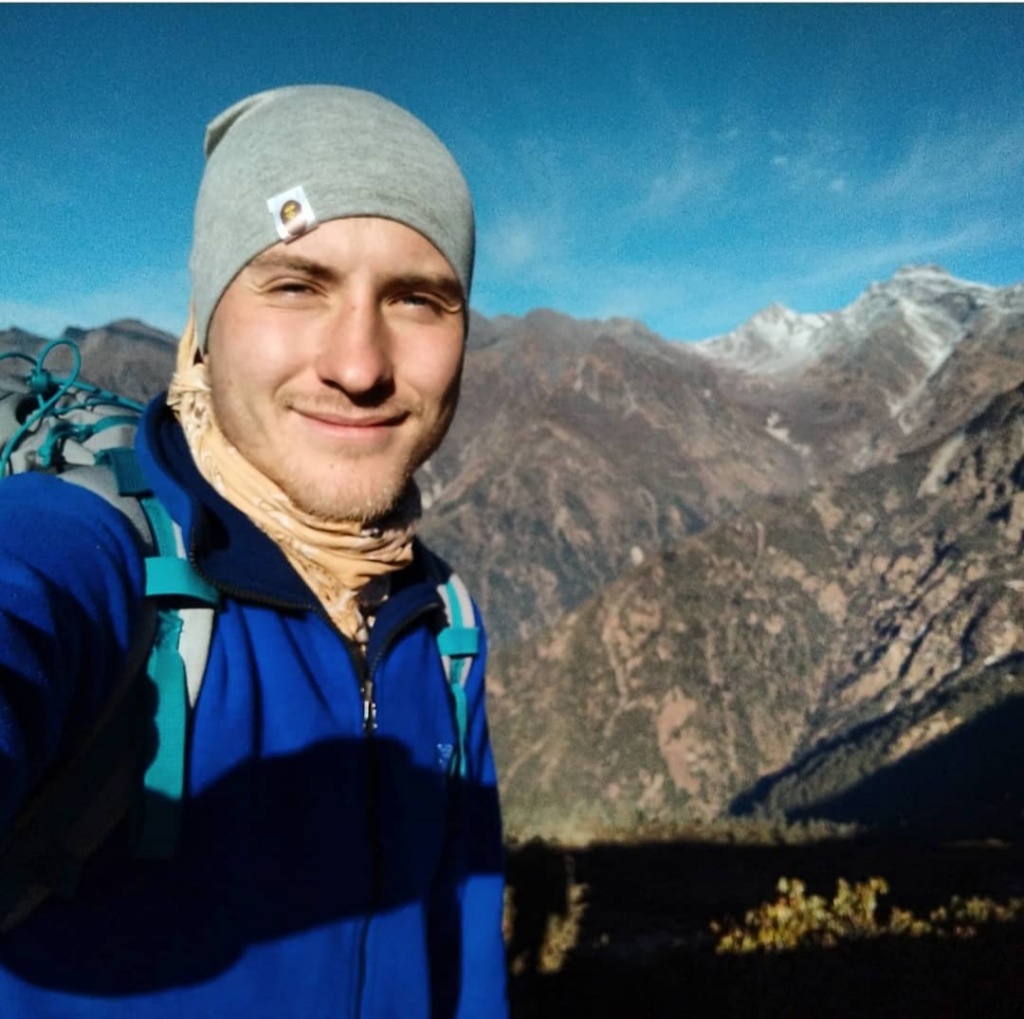 ---
About Altai
---
Altai is an amazing place. Once you visit it and you will want to come back again. Mountains and lakes, forests and rivers, diverse flora and fauna — all of it fascinate and remain in the heart.
Here originate two mighty rivers — Katun and Biya, which form one of the largest rivers in the world — Ob. Biya flows from the largest lake of the Republic — Teletskoye. Another river — Katun — originates from the glaciers of Siberia's largest mountain Belukha, towering more than 4,000 meters.
There are many legends around this mountain. One of them is that somewhere under it is hidden a secret passage to the magical land of Shambala.
Altai is famous for unusual places: the lake of mountain spirits, Ukok plateau, Karakol lakes, many other places shrouded in the aura of mysticism.
Summer in Altai is hot. From May to October is warm weather to +30. But the nights are mostly cold. Only from mid-June to August the air at night warms up enough to look at the night sky comfortably. Although at altitudes of more than 2500 meters this does not happen.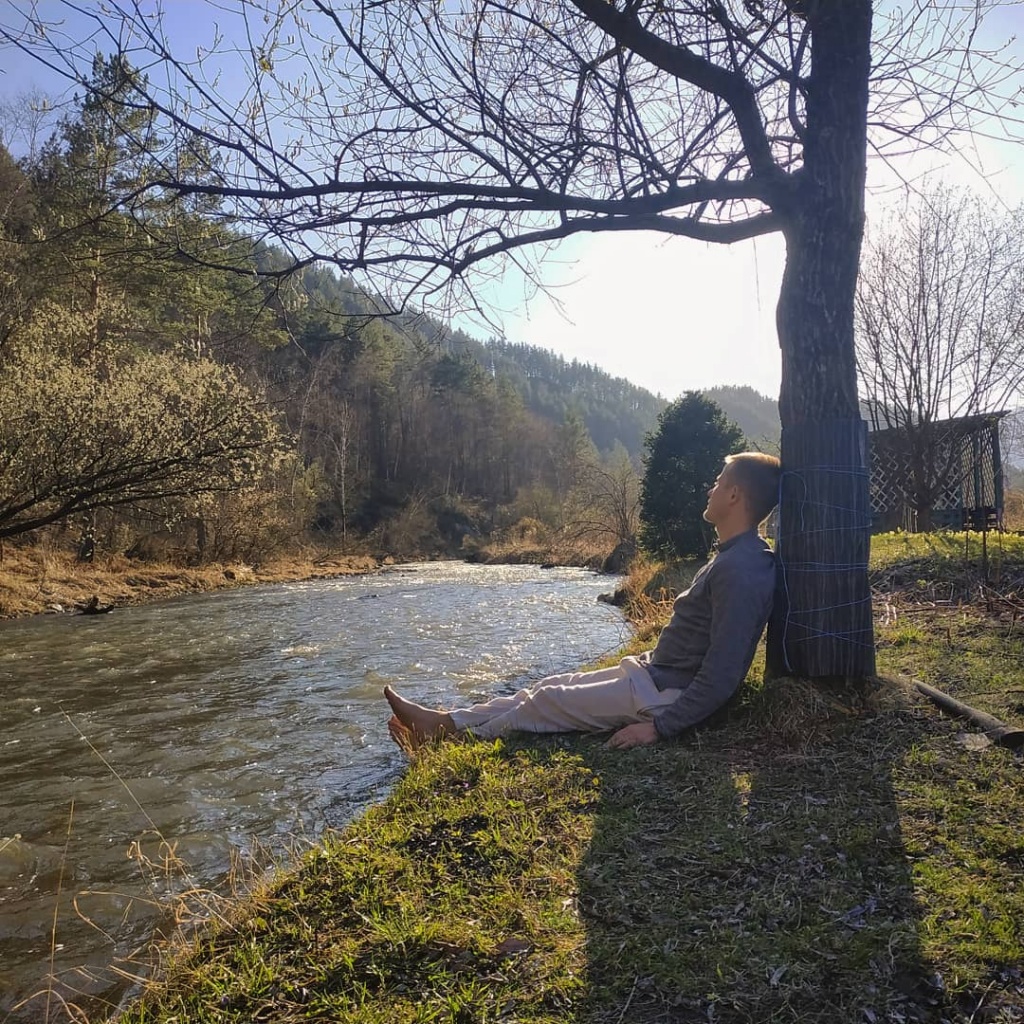 Local attractions are mostly created by nature itself — bizarre landscapes from the movement of rivers and the formation of mountains, incredible mountain lakes, glaciers, Alpine meadows, waterfalls. There are also natural caves and rock paintings.
For outdoor enthusiasts, Altai is a discovery
For outdoor enthusiasts, Altai is a discovery. Rafting, trekking, mountaineering, horse riding, paragliding, and in winter ski slopes and even sledge dogs.
Our family has a business peony garden, guest house and restaurant.
---
About people and traditions
---
The local indigenous population — the Altai people live here for many centuries. They are unique with the interweaving of Kazakh, Mongolian and even Tibetan mentality. The inhabitants of these lands believe in the spirits of nature. Shamanism exists, despite many years of persecution. Currently, there are artefacts indicating the presence of Buddhism in the Altai territory: statues and mantras carved on stones in Tibetan.
National dishes are mainly meat products.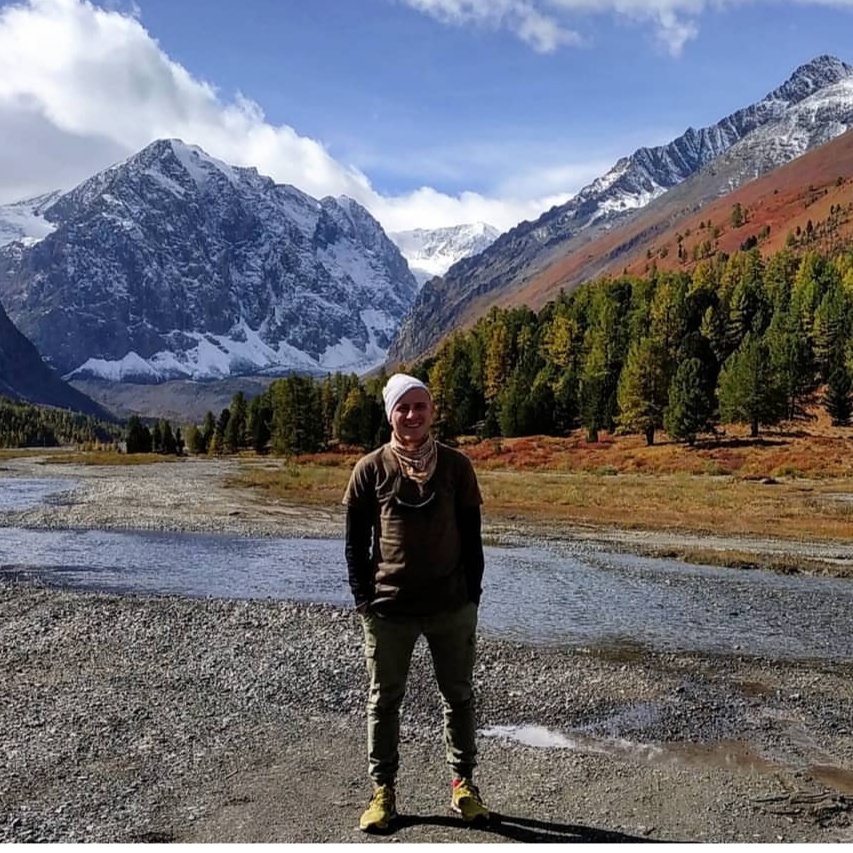 Across the Republic, there is one of the most beautiful roads in the world — Chui tract. This is the main transport artery of the region, going to Mongolia. You can easily move by car or public transport. There is an international airport in Gorno-Altaysk.
---
About prices
---
Housing can be found here for a variety of tastes and wealth. From budget private guest houses and villas from 500 rubles per night to luxury cottages 30,000 — 50,000 thousand rubles.
There is even an opportunity to rent a helicopter or even a plane to enjoy the beauty of nature from a bird's eye view. Or you can take a backpack, tent and provisions and go hiking like a real traveller.
Inna Smirnova, 29 years old, hometown — Semipalatinsk, translator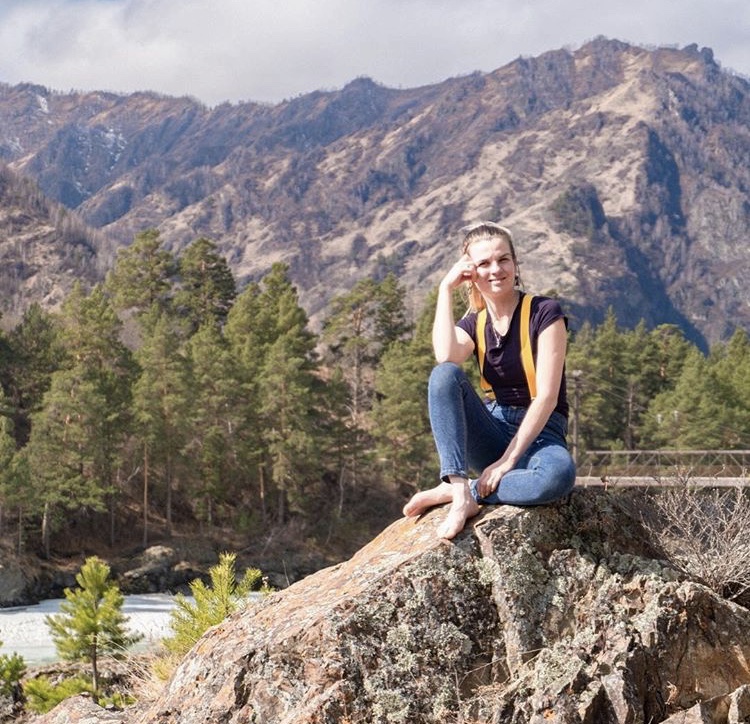 ---
About Altai
---
I was born in Kazakhstan, but now my home is Altai.
Altai is inseparable from the mountains. They attract people not only from all over Russia but also from all over the world. Here you can find mountains for every taste: from foothills for cosy walks to serious mountain climbing routes.
The weather in the mountains is unpredictable. When people ask me what the weather will be like and how to dress, I advise taking everything from shorts and t-shirts to down jackets. Different regions of the Republic have a different climate. If in our Chemal district the climate is mild, with warm winters and lots of sunny days, then, for example, Kosh-Agach district is equated to the regions of the Far North. A severe winter with temperatures down to -50 is the norm there.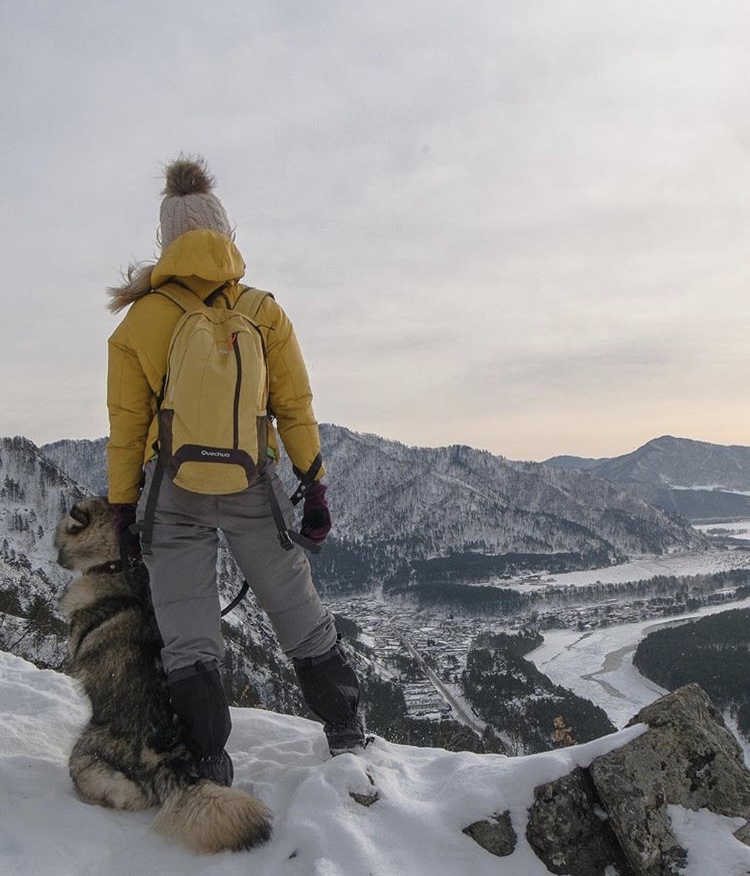 Tourism is actively developing here. Basically, it is active tourism — trekking, hiking, rafting.
Basically, it is active tourism — trekking, Hiking, rafting
Altai it is worth coming to. You can read and listen to the mountains for a long time, but you can feel their special energy only here. I recommend walking. Even if it wouldn't be a multi-day hike or a difficult climb. There are many paths that everyone can take. This will give a vivid impression.
---
About people and traditions
---
The main attractions here are natural: mountains, waterfalls, lakes, forests.
Altai has many national traditions associated with the native nomadic way of life and religion of the local population. Food also has imprinted nomadic cults — meat and dough in variations, blood sausage, giblets, bursaki.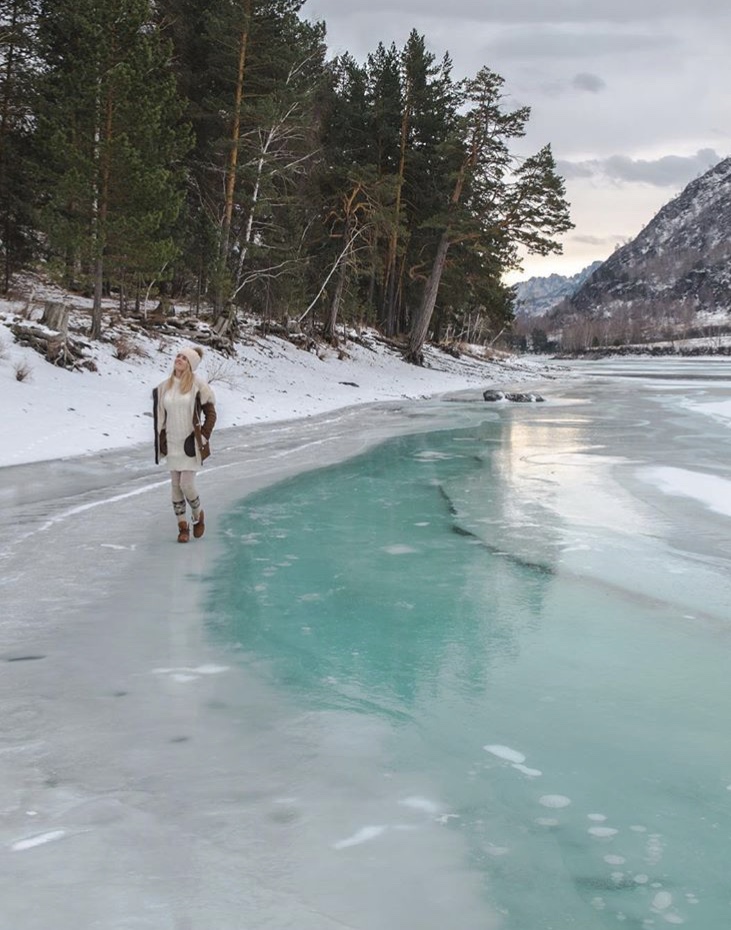 ---
About prices
---
Public transport is not well-developed here. Most people use private cars, and tourists rent.
Accommodation can be found for every taste — from free overnight in a tent to a luxury base.
Anton Luchkin, 28 years old, hometown — Gorno-Altaysk, painter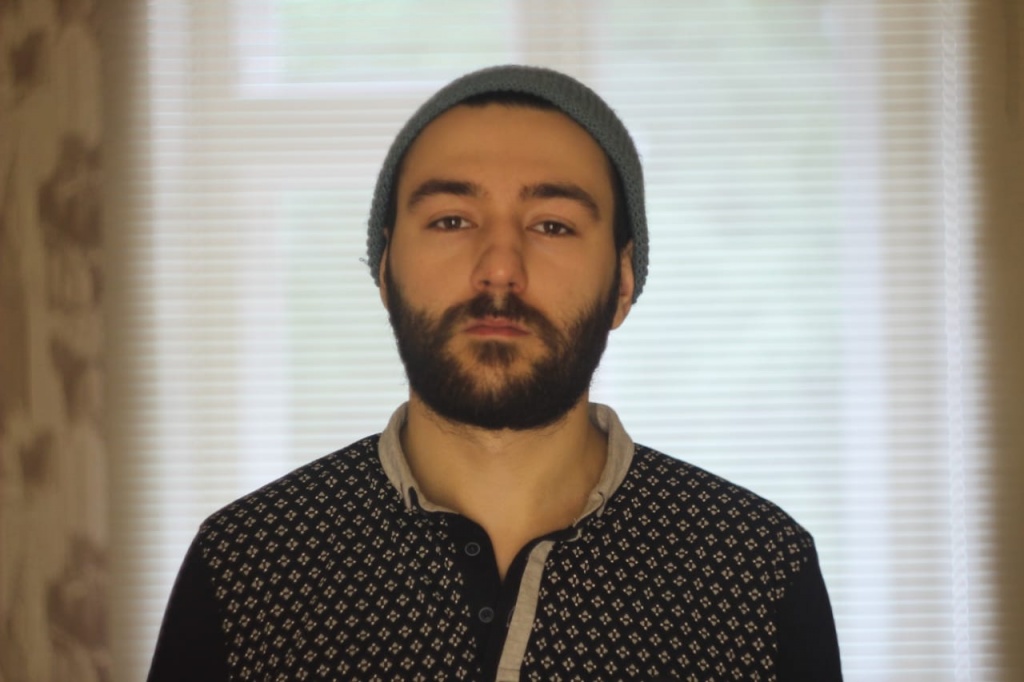 ---
About Altai
---
For me, the Altai is mountains, rivers, rocks. Nature in the Altai is diverse, in harmony combined turbulent Katun River and quiet rivers like Maima.
In the city of Gorno-Altaysk, many buildings of the USSR built during Khrushchev and Stalin. Gradually, the old part of the city is erased, new buildings, shopping centres appearing.
There are many natural monuments: ruins, the confluence of different rivers, a mountain — an extinct volcano and caves.
I would advise going to two mountains in Gorno-Altaysk. There is an observation deck, and the second mountain is the road. Much of what is need to be seen is along the Chui tract. But always remember about safety and dress in the mountains accordingly.
---
About people and traditions
---
People in Altai are responsive and hospitable.
Altai is famous for its nature and legends. For example, there is a legend about Babyrgan volcano. It begins with the Altai Mountains, and it is the northernmost peak of the Seminsky Ridge and the first mountain for travellers following the Chui tract in The Altai Mountains. In good weather, it can be seen from Biysk, and at the entrance to the border of the Altai Republic near the village of Liberty Valley offers a particularly picturesque view of Babyrgan — hence the head of the sleeping hero.
Altai is famous for its nature and legends
City often held fairs, where farmers come from all areas and sell meat and other products. Many workshops that make souvenirs and amulets.
---
About prices
---
Travel by bus in the city costs 18 rubles, taxi — 200 rubles.
The apartment can be rented from 10,000 rubles, the house — from 6,000 rubles.