Traditional phenomenon of portable Kazakh houses had been evolving towards perfection for centuries. Researchers have recognized it as "the most perfect type of portable shelters and impressed the travelers and merchants, ambassadors of foreign states and medieval historians. Many of them, left fanciful descriptions of felt tents, which amazed them with its comfort and splendid decorations.
A traditional yurt is a portable, round tent covered with skins or felt and used as a dwelling by nomads in the steppes of Central Asia. The Kazakh yurt is easy to assemble and disassemble. It retains heat well and protects from the wind, as well as from the excessive heat in the summer. When it is hot, felt flooring is removed to make the inside cooler. For the winter, the yurts were insulated with double covers, surrounded with snow, hedged with sheaves of reeds, and dug round with soil.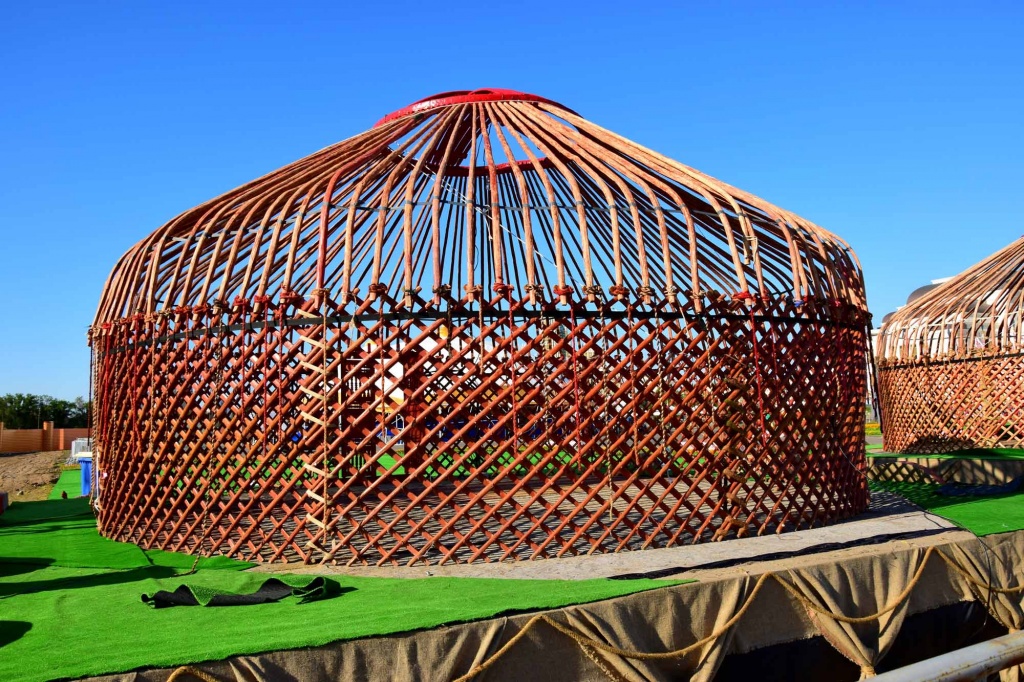 ---
History
---
The origins and history of the yurt's structural development are to this day subject of lively debate in the academic literature. The prototype of the contemporary Kazakh yurt is a yurt of the ancient Turkic type, invented in the middle of 1000 B.C.E. and which itself owes its structural features to the semi-spherical Hun hut, an even earlier type of portable housing. It is in any case clear that the yurt is a product of a long historical development and gradual perfection of more primitive types of dwelling. The yurt's unique architecture and complex semantics reflect the level of cultural development and ideological sophistication of Turkic peoples.
Yurts have been a distinctive feature of life in Central Asia for at least three thousand years. The first written description of a yurt used as a dwelling was recorded by the ancient Grdeek historian Herodotus. He described yurt-like tents as the dwelling place of the Scythians, a horse riding-nomadic nation who lived in the northern Black Sea and Central Asian region from around 600 BC to AD 300.
---
Types of yurts
---
Yurts have two main types: cone-shaped (for Mongols, Buryats, etc.), hemispherical (for Kazakhs, Kyrgyz, Turkmens, etc.).
---
Structure of the yurts
---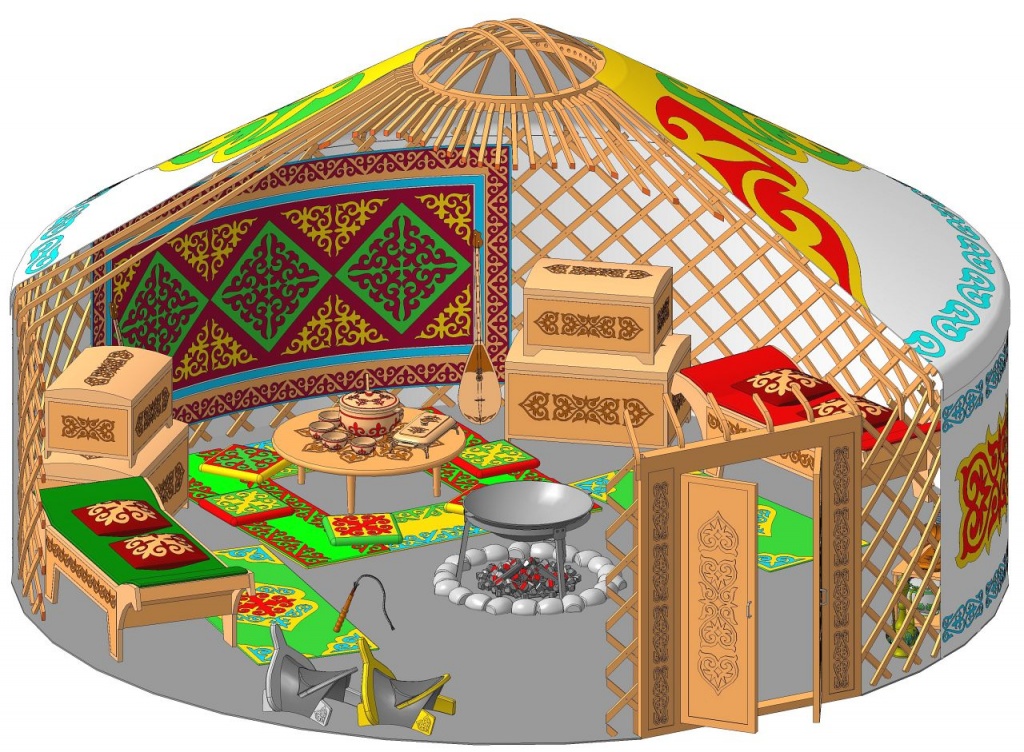 Yurt is a round-shaped, sophisticated construction with a dome. It consists of three main parts and many other smaller parts.
Three main parts include Shanyrak — top of the Yurt, Kerege — walls carcass and Uwyk — a carcass
part from Kerege to the Shanyrak. The carcass is usually covered with pieces of felt from outside and decorated with carpets from inside. It should be noted, that Shanyrak is extremely valuable for Kazakhs and is considered to be a sacred symbol of family wellbeing and piece.
Yurt usually does not have rooms in it, and it was a common practice to have a separate yurt as a bedroom, separate one as a kitchen, guesthouse, etc as long as people could afford that. A nomad made the Yurt easy for assembling and disassembling, and with the help of one camel and two horses the entire construction of the yurt and decorations of the interior are easily transported.
Video with timelapse of yurt installation: