There is no person in the country who does not know about the charms of national dish — beshbarmak. It seems that the recipe for its preparation is passed on with the mother's milk. However, every region serves beshbarmak differently. What other types of food can be found in Kazakhstan? If in your region beshbarmak is cooked somehow in a special way, tell about it in the comments.
---
West Kazakhstan
---
In Aktobe, the dough and the meat are put in the same quantity. Served with potatoes and "sorpa" (soup) with onions — "tuzdyk" (sauce).
In Atyrau, fish is used instead of meat. In this city of West Kazakhstan people serve beshbarmak with potatoes and add "sorpa" (soup) with onions.
In Uralsk, meat is served not sliced, and "sorpa" (soup) is poured with kefir.
People, who live in Aktau, prefer to eat meat a lot. Another meat delicacy that is served to the table is "buzhi" or "ishmai", similar to "kazy" (type of a meat). It consists of the following ingredients: meat, fat, carrot, potato, onion, flour, salt, pepper.
---
South Kazakhstan
---
In Almaty, not all meat is sliced, because guests take home a meat that is not cut. For guests, beshbarmak is prepared without potatoes, and when it served at home, potato can be added.
In Taldykorgan, there is a lot of meat and little dough. Also, kurt and kefir — "katyk", served on the table.
In Taraz, on the contrary, a lot of dough and a little meat, vegetables are also added: sweet pepper, carrots. Therefore, "sorpa" (soup) is a bit reddish.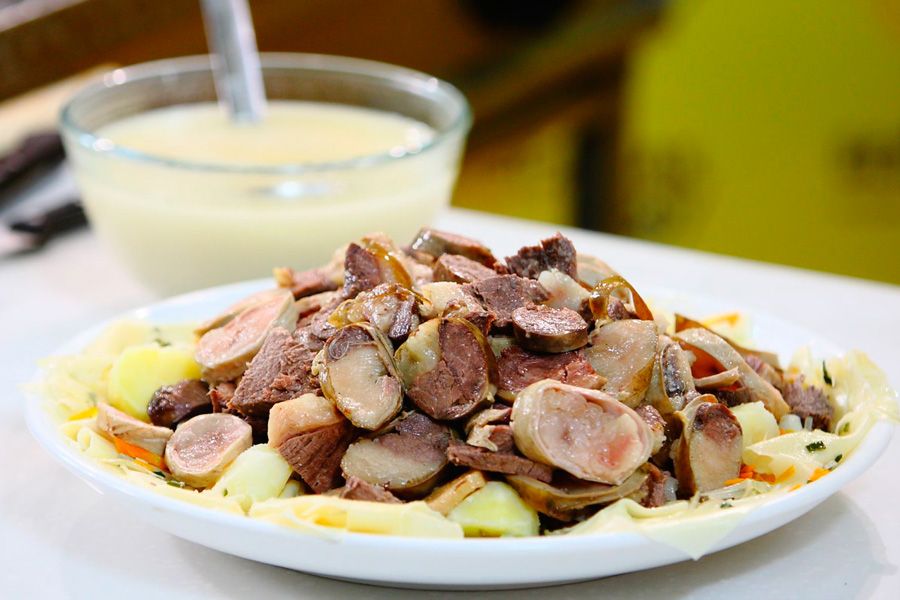 In Korday, beshbarmak is noodles — "kespe salma" and meat.
In Kyzylorda, the meat is put on the dough in large pieces, and "tuzdyk" (sauce) is prepared with onions and carrots.
---
North Kazakhstan
---
Kokshetau beshbarmak is famous for its large amount of meat, which is always put on the table entirely. In addition, in this town, garlic is not put in shuzhyk (type of a meat).
In Pavlodar, they put potatoes, and they give kurt for the "sorpa" (soup).
---
Central Kazakhstan
---
In Karaganda, in beshbarmak little dough and a lot of meat, which is not sliced for guests.
In Zhezkazgan, people do not put many onions in beshbarmak. If in the North, "tuzdyk" (sauce) can be poured during the meal, and then in Central Kazakhstan it is done once at the very beginning.