Anne-Sophie Rauer, Jerusalem, equine osteopath, @rauerexpat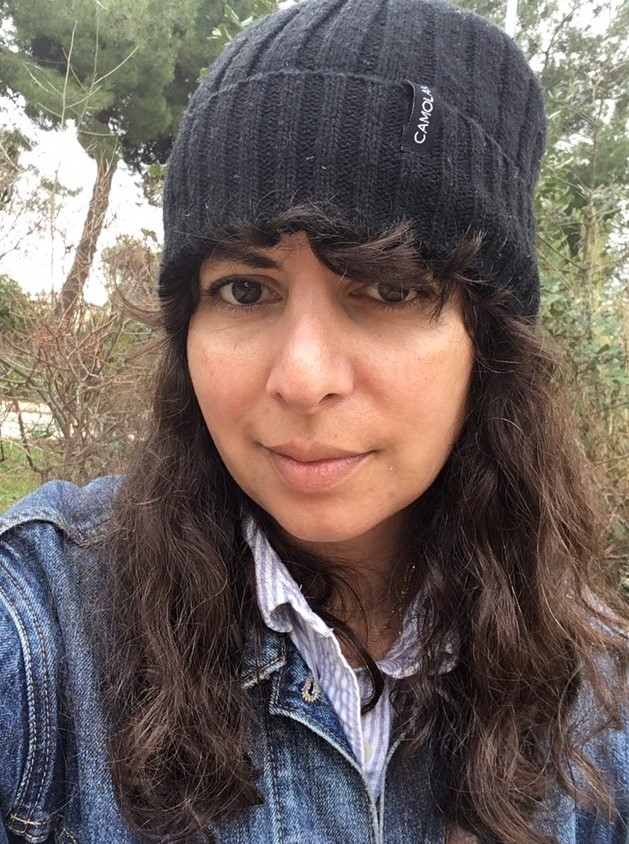 I am from France, Paris.
My home country is France but I have not been there five years. Prior to our moving to Israel we were living in the USA.
Originally, I am an equine osteopath, I have been a polo manager, I worked in the restaurant industry in the USA and now I raise our almost three years old son.
We have lived in Jerusalem for ten months. We moved because my husband that is in the academic had an offer for a post-doctoral fellowship at the Hebrew university.
About first impression
I found Jerusalem very religious. I also found it very beautiful immediately.
About difficulties
All the paperwork was a nightmare.
It took months for the visas, weeks to open a bank account etc.
Other issue is that we do not speak Hebrew and even being fluent in English, this is problematic not to be able to read what is on the product you want to buy at the grocery store for instance.
About differences
Coming directly from Minneapolis, Minnesota, USA, we have immediately noticed a huge difference in people's behavior.
Being French, we are more used to very direct Mediterranean attitude so we felt more close to our culture in Israel than in the passive aggressive Minnesota. However, honestly, we found the people very pushy. Now we areused to it and do not take it personally anymore and we made great friends.
Also, everything is closed for Shabbat and every religious celebration.
You have to plan your groceries in advance.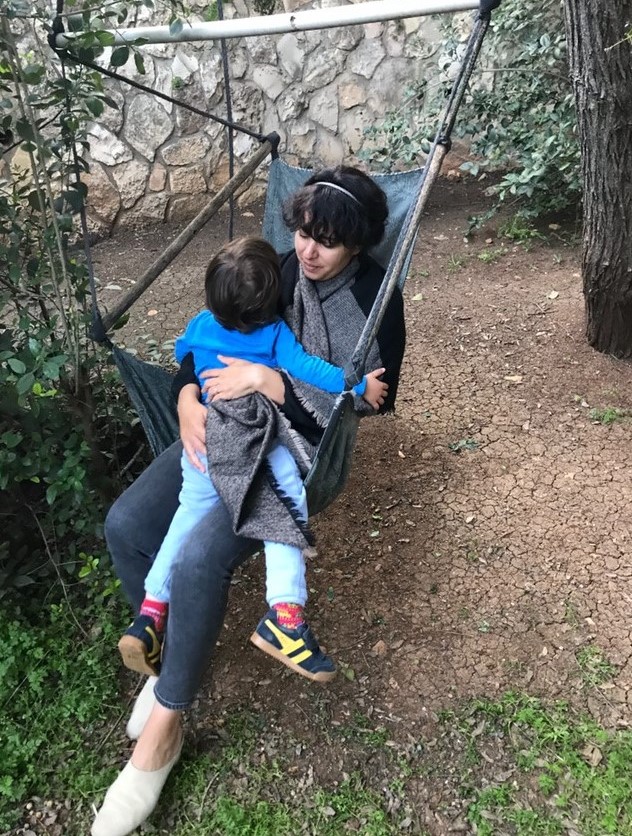 About people
People is being direct as I said already.
They love for food, wines and socializing as we are.
It also depends where you are.
Tel Aviv for instance is a very cosmopolitan city, almost no religious people and Haredim, Arabs and Jews are more connected. People in Tel Aviv sound very nice, welcoming and open minded to me. We are living in the holy city.
What I like there
I like the weather here.
There are amazing beautiful seasons, great food, great organic locally grown vegetables and fruits. Also, this may be surprising but we feel very safe here. There is a lot of military and police everywhere and streets are very safe anytime.
Interesting story
Another unique thing in the world we have experienced is Yom Kippur.
This religious celebration is unique in Israel because everything is closed, even the airport. There are no cars, no public transportation, and no planes in the sky for an entire day. Then every family goes in the streets and kids are using rollers or bicycles on the roads. That is pretty impressive. I think that is a great day for the ecology.
---
Christina Tepe, Be'er Sheva, market research analyst, @chrisgoescrazy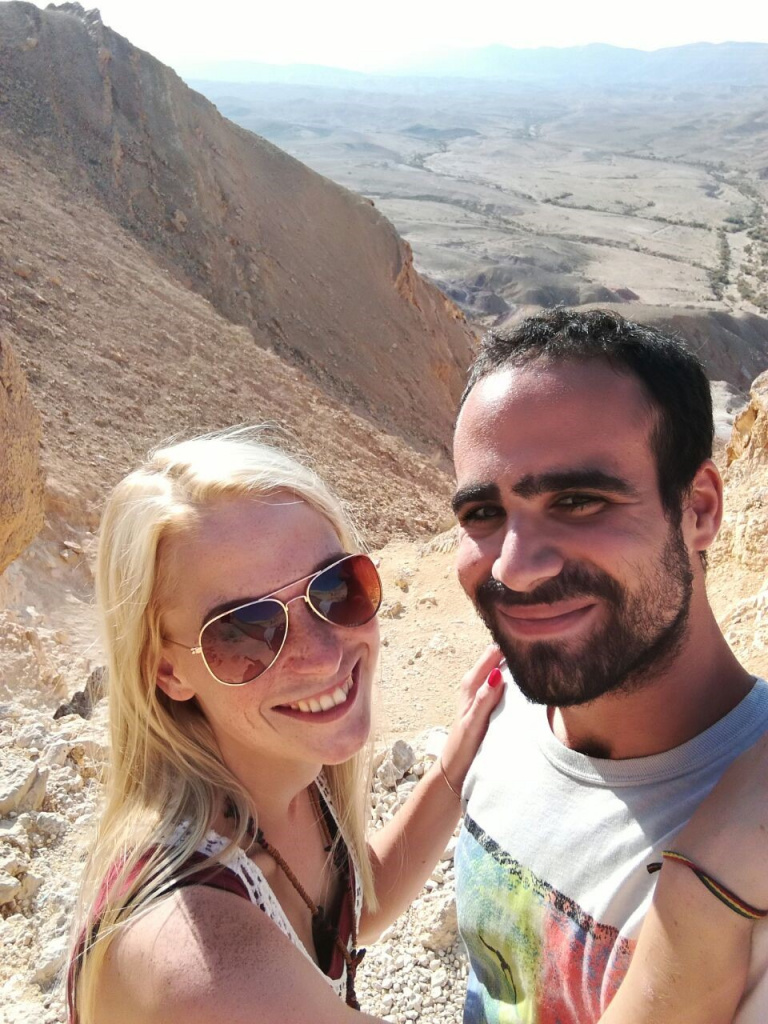 I am 28 years old and I am from Germany.
I studied Agricultural Sciences and I work in an Agritech company as a Market Research Analyst in Israel. I love to work out at the gym and to go hiking. I am living in Israel since July 2018. I met my Israeli boyfriend in January 2016 on a backpacking trip in Rio de Janeiro, Brazil. We lived in a long-distance relationship for 2 years and then I moved to Israel. So the reason I came to Israel was love. I do not regret coming here at all. We have an amazing, lovely relationship full of trust and respect for each other.
About first impression
The first time I visited Israel was in 2016.
I was amazed by the diversity of the country on so many levels. First, the people, they come from so many different cultures. Then there is the food. Many different cultures combined in the country means that there is an offer of many different cuisines. At last, I was so impressed how many different landscapes this tiny country has to offer. There are waterfalls and greenery in the north, beautiful beaches and the sea on the west coast, there is the Dead Sea, desert and the red sea in the south.
About difficulties
Moving from Germany to Israel means moving to a completely different life and culture than you used to know.
Those countries are not comparable. The life is very different. Life in Israel is louder and more hectic. People are very direct. In general, dealing with the Israeli temper was challenging for me. However, I think your mind-set that brings you there. The moment you let go, stop comparing and accept that this is the culture and the temper you automatically become more open. Then you get a hang on it.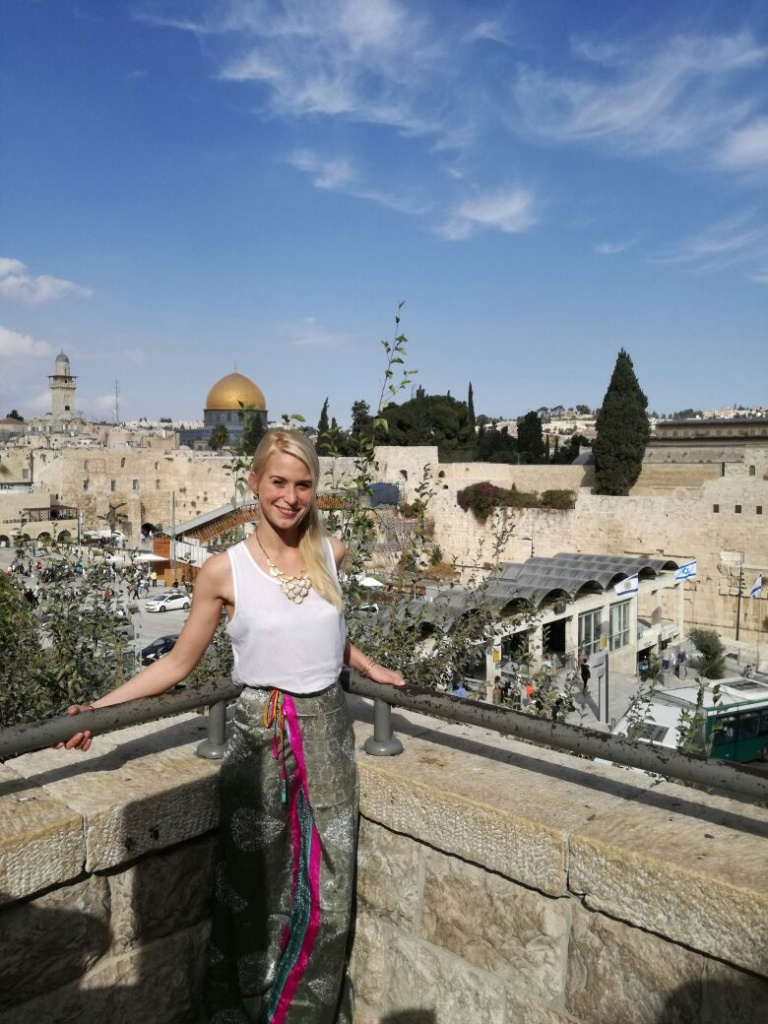 About similarities
I would say the work ethic is similar, depending on what field you are looking.
I am working in a Start-up company and the people there have high expectations on the outcome of what they are doing. They are highly motivated and strive to find smart solutions.
About differences
The attitude of Israeli people is the biggest difference I can tell.
They are more open minded and friendly. They are also louder and much more direct than German. If you ask about their opinion, you can be certain you get their honest opinion, even if it is uncomfortable. Israeli people are much more traditional, and family is much more important here than in Germany. The Shabbat dinner each Friday is for most of the people not optional. It is a high priority to see your family and spend quality time.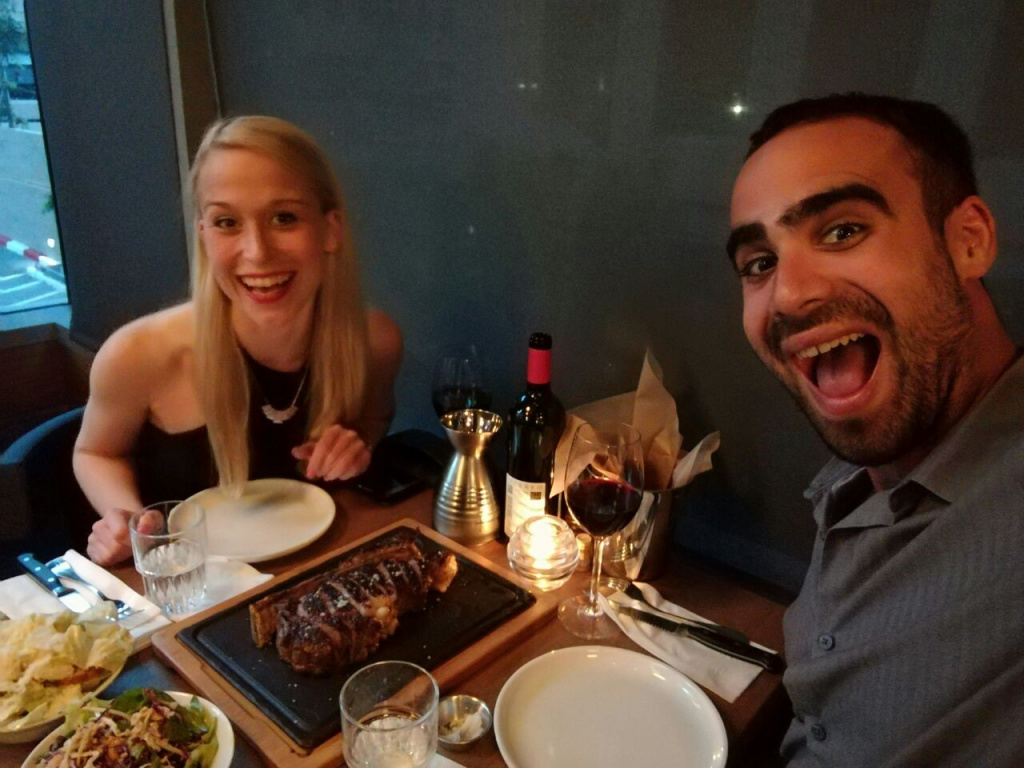 About people
I like the priorities Israelis have in life. It is very important to meet friends and to go on adventures.
In everyday life, people do many social activities together. They meet for BBQs, go camping, to the beach together and they meet for board games. They will always find time to socialize. They are very spontaneous. They also love to go on trips together. In fact, Israelis travel a lot. I would even say traveling is their hobby number one. I adore this way of life.
What I like there
Although the direct attitude of Israelis was challenging in the beginning, I much enjoy it now.
I wish Germans would be more direct and open-minded. It makes life less complicated. I love the hot weather and the sea, in general the nature here. And every time I am in Germany I miss middle eastern food. I genuinely enjoy the food, if you did not try Hummus in Israel, then you do not know what Hummus is.
---
Desideria Spinelli, Jerusalem, publisher and editor, @desideriasb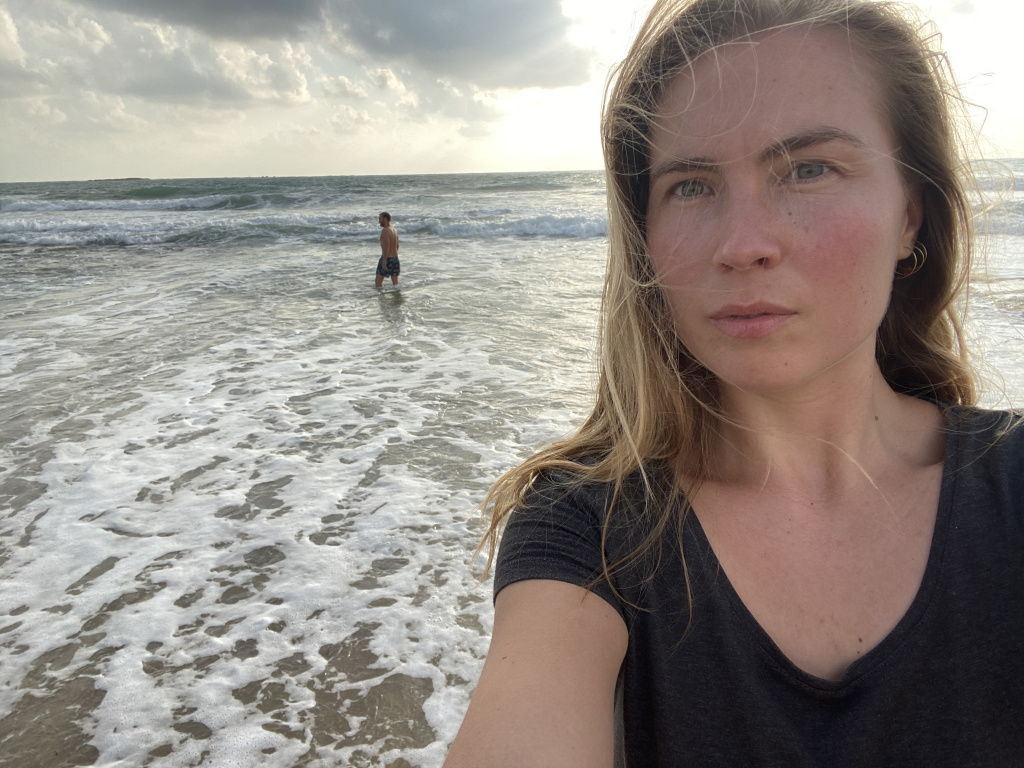 I am 29 years old and I come from Milan, Italy.
I work part-time for a big Italian publishing house, my job is to review English-language novels that are about to be published in other countries, for the Italian market.
I have been living in Jerusalem since last Christmas, December 25.
I followed my husband who is a trauma surgeon and is spending his last year of residency at the Hadassah hospital. We came with our big female Czechoslovakian wolfdog who is seven years old. We will come back home to Milan this December, after exactly one year.
About first impression
My first impression of Israel was that houses were unexpectedly very cold.
They do not use our heating system and in January temperatures drop easily to 0°C.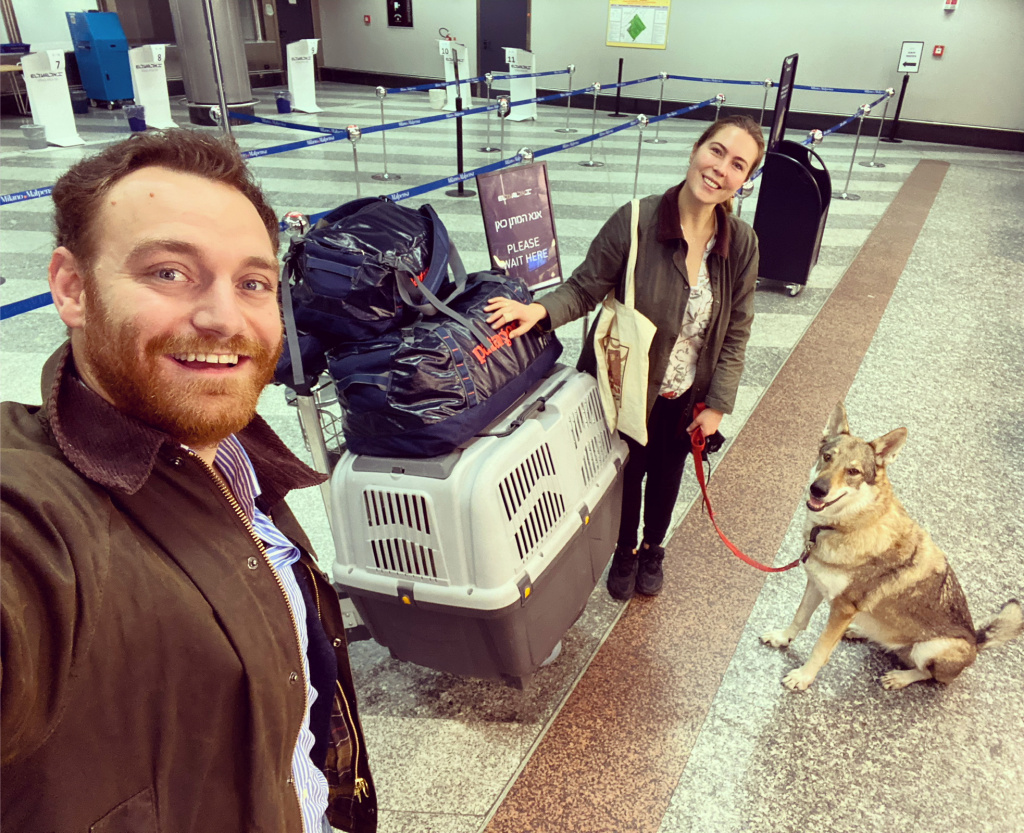 About difficulties
Jerusalem is nothing like Tel Aviv - and for example during Shabbat or Pesach, everything is closed and even public transportation stops completely.
Besides, in Jerusalem, not everybody speaks English, but it is not difficult to understand each other in some ways, since we are all Mediterraneans and use a lot of gestures and facial expressions. We tried studying a bit Hebrew, but it is very hard and far from any other language, we know.
About people
I found people much more welcoming and curious towards us than I thought.
People here also love dogs, so we started our new life here without big problems.We noticed that people here follow the rules with much more discipline than in Italy and are very patriotic. We share a common love for food and wine, for nature and animals.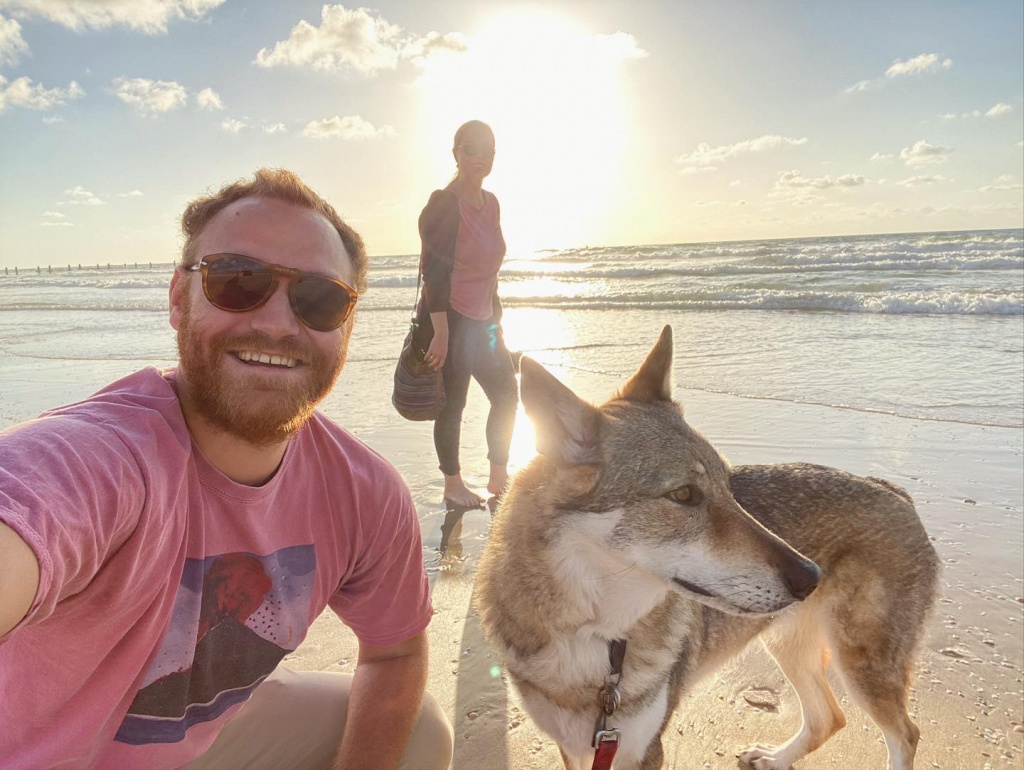 I cannot describe yet Israeli people and their way of living in a structured way, I can only underline the relevance of religion in Jerusalemites' life and how it permeates everything: from restaurants to public transportation and supermarkets.
It is not immediate for Europeans to understand how much lives are regulated by religion here. I appreciate the strong sentiment for the nation that every Israeli seems to have.
We have been a little unlucky with the timing of our moving, since after two months here the pandemic started and we suffered the isolation, far away from our beloved country and city that were the first and worst hit centers after China.
My husband kept working as usual in the hospital and I managed to survive being buried at home like everybody. Now we are excited to visit every single part of this beautiful land, since we cannot visit home nor enjoy the Italian seaside in summer.